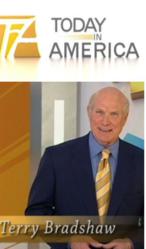 Leaders in Educational Programming
Coral Springs, FL (PRWEB) January 21, 2012
Committed to delivering news and engaging discussions, The Today in America TV program with Terry Bradshaw spotlights a Charlotte, NC medical equipment firm that practically eliminates multiple service maintenance agreement costs while embracing the greener way of doing business in their "Medical Minute" series.
The Remi Group is the nation's leading Equipment Maintenance Management Program provider. They help companies analyze, control and reduce their equipment maintenance costs. Some of their successful programs have been for many large clients including cities and counties, top rated insurance agencies, large grocery store chains and in some cases, entire States. "While consolidating healthcare providers and service agreements under one comprehensive maintenance management program, we've ended multi service agreements", says Dan Schuster, CEO, The Remi Group.
The Remi Group does not repair or maintain equipment; but rather allows clients to use their preferred service provider for higher end medical equipment. It's really all about helping healthcare providers cut costs without impacting patient care.
Today in America is the first show of its genre hosted by Terry Bradshaw that is geared towards the educated, affluent viewer. Based on viewer feedback, the show has spawned great interest in many luxury markets.
To see what this cutting edge company is doing, head to the official site of Today in America todayinamericatv.com.To learn more about how they keep it green while cutting costs to healthcare providers, please visit http://www.theremigroup.com/.
Today in America TV with Terry Bradshaw combs the nation and the globe to bring viewers fascinating stories and firsthand insights from entrepreneurs and organizations within various industries. The television show is broadcast nationally and regionally on many popular television networks. The show's host, Terry Bradshaw, is considered by many to be one of the greatest quarterbacks of the NFL. Since retiring from the gridiron in 1984, Terry has remained a familiar face to television audiences. After ten years with CBS as a Color Commentator, Bradshaw joined Fox Sports in 1994, where he remains today as one of the co-hosts of and analysts for Fox NFL Sunday.
For more information on Today in America with Terry Bradshaw or its host, please visit http://www.todayinamericatv.com.
To speak with a Remi Representative:
Phone: 888-451-8916 Option #1
Fax: 704-887-2915
Email: info(at)theremigroup(dot)com
###