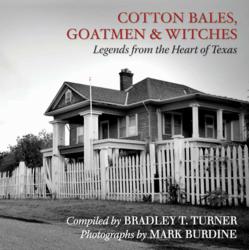 If [the stories] are not written down, no one will know them 100 years from now, and whether they were lore, fact, or legend
Waco, Texas (PRWEB) January 20, 2012
Cotton Bales, Goatmen & Witches: Legends from the Heart of Texas tops the Media Roundup on the Special Collector's March 2012 issue of Cowboys & Indians. The international magazine, published eight times per year, is available at most retail magazine outlets. It covers the past, present, and future of the American West.
One publisher's problem nightmare turned into a plus when Cowboys & Indians Contributor David Hofstede called TSTC Publishing about the book.
"Mr. Hofstede called one day and was very upfront, saying he had had a publisher call and tell him the book he was planning to write about wasn't going to print for another year," said Sheila Boggess, TSTC Publishing marketing manager. Hofstede said he had dug around, looking for a suitable replacement and came across promotional information about the Cotton Bales book. "I sent him a copy of the book and gave him contact information for the author," said Boggess.
Turner got a call on the same day and arranged for a phone interview with Hofstede. The article tops Hofstede's Media Roundup and pictures the cover of the book, photographed by Mark Burdine.
"Mark's present-day photography in this coffee table book really works with Brad's legendary stories," said Mark Long, publisher. Cotton Bales, Goatmen & Witches: Legends from the Heart of Texas features 70 stories that bring to life the whispered stories and forgotten secrets that illuminate the darkest recesses of the Texas psyche from the distant past to the present day.
Turner, as a seventh-generation Wacoan, told Hofstede he had heard many of the stories growing up. His favorite? Well, the story of a goatman eating children in the local Cameron Park certainly made the greatest impression, Turner is quoted in the article.
It was important to Turner to write down the stories before they're lost forever. "What we're essentially doing is recording social memories, which is completely different from history," Turner said in the Cowboy & Indians article. "If they're not written down, no one will know them 100 years from now, and whether they were lore, fact, or legend."
The article is in the March edition, but is available at retail outlets now. For further information, contact Cowboys & Indians at 214-750-8222, or visit here.
For information about the book, contact Sales Manager Wes Lowe at 254-867-3233 or at wes.lowe@tstc.edu or by visiting publishing.tstc.edu. Established in 2004 as the publishing arm of the Texas State Technical College System, TSTC Publishing offers faculty throughout the country the opportunity to initiate and participate in a variety of book development projects. TSTC Publishing projects now include such ancillary products as instructor guides, student workbooks, CD-ROMs, DVDs, ebooks and companion websites. In addition to offering editorial help and guidance to faculty, assistance also is available in the areas of materials production, distribution and sales.
To watch a book trailer about Cotton Bales, Goatmen & Witches: Legends from the Heart of Texas, click here.
###