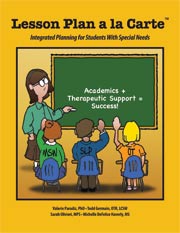 This is a must-have for every school serving students with special needs! It provides the framework for teachers and therapists to share their perspectives and meet each student's needs during every lesson.
Overland Park, KS (PRWEB) January 24, 2012
Teachers and clinicians tend to think, speak and work differently in schools, and often have separate priorities and goals. Lesson Plan a la Carte from AAPC Publishing guides educators through a simple, step-by-step process of creating an integrated lesson plan that addresses the social, environmental and communication challenges that often block students with special needs' access to academics and other learning opportunities.
This model helps to integrate the best clinical and educational practices into a plan that speaks a common language and aligns and focuses priorities, goals and strategies. The core components of this research-based planning model are two types of menus: Therapeutic and Considerations for Planning. After using the Therapeutic Menus to identify obstacles to learning and how to address them utilizing best teaching and therapeutic practices, the Considerations for Planning Menus help answer the question of how to implement appropriate changes.
Team and solo templates facilitate the brainstorming and finalizing of the lesson plans. Guided instructions are printed right on the template forms which are provided in the book and on an accompanying CD.
"This is a must-have for every school serving students with special needs! It provides the framework for teachers and therapists to share their perspectives and meet each student's needs during every lesson. The authors understand the time limitations of a school staff and have made this book very easy to use. The lesson plan templates are great, and even more helpful are the Therapeutic Menus and Planning Considerations. I applaud the authors for providing schools with a comprehensive and streamlined approach to lesson planning."
– Margaret Poggi, MA, CCC/SLP, head of school, LearningSpring School
"As a physician who cares for children with special needs, I routinely write recommendations for educational modifications and therapeutic strategies, anticipating these will be included in IEPs and 504 plans. Always a concerning question – until Lesson Plan a la Carte – has been how these recommendations would translate into an integrated approach to enhance a child's learning. This book, in very readable format with helpful examples, provides practical and easy-to-implement solutions."
– Monica R. Meyer, MD; developmental-behavioral pediatrician
"Dr. Paradiz and colleagues have gifted the educational community with a vital resource that provides the structure needed for developing highly effective lesson plans that are aligned with regulatory requirements of today's school settings. Whether used by individuals or in collaborative settings, educators and other professionals will find this book invaluable for integrating all aspects of a student's educational plan while addressing and lowering barriers presented by sensory, cognitive, emotional, and other challenges while promoting student success in education and beyond. This book will find a place in my college courses when I teach about IEP development for students with autism and other special needs."
– Stephen Shore, EdD, professor of Special Education, Adelphi University; internationally known author, consultant, and presenter on issues related to the autism spectrum
About the Authors
Valerie Paradiz, PhD, designs curricula and educational programs for children and adults with autism spectrum and related conditions. She is the developer of Integrated Self-Advocacy ISA®, a curriculum and certification training series for educators, therapists, families, and support providers who wish to help individuals with ASDs achieve greater self-determination and ability in self-advocacy.
Todd Germain, OTR, LCSW, is a clinical social worker and occupational therapist with advanced training in child and adolescent psychotherapy from the William Alanson White Institute. Todd has a private practice in Manhattan where he works primarily with children and families around a variety of developmental and social-emotional issues.
Sarah Olivieri, MPS, is involved with a number of organizations serving children, teens, and adults on the autism spectrum. She co-founded the Open Center for Autism in 2005 with Valerie Paradiz and has served as the deputy director of the Global and Regional Asperger Syndrome Partnership (GRASP) and executive director of the Helping Children of War Foundation.
Michelle DeFelice Haverly, MS, has been a teacher of people with special needs for more than 15 years. During those years, she has served as a special educator of students with a wide range of abilities in various settings.
About AAPC
Established in 1999, the mission of AAPC Publishing is to be the first source for practical solutions related to autism spectrum and related disorders. We are an independent publisher, targeting professionals and parents alike.
# # #