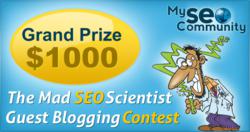 This contest has in total over $2000. in cash as well as several non-cash SEO related prizes!
Houston, Texas (PRWEB) January 25, 2012
MySEOCommunity.com, a new global search and social community, is celebrating their launch with The Mad SEO Scientist Guest Blogging Contest.
The contest gives bloggers of all experience levels a chance to showcase their best work to a wide audience. Not only is this a great way for bloggers to broaden the size of their audience, but the contest has a first prize of $1,000 in cash. The contest's winner will also be rewarded with a lifetime premium membership to MyBlogGuest.
This contest has in total over $2000. in cash as well as several non-cash SEO related prizes.
In addition to its great sponsorship, the driving forces behind the new community and contest include many prominent SEO professionals like:
Gerald Weber, President of Search Engine Marketing Group in Houston, Texas
Ann Smarty of MyBlogGuest.com, a community of guest bloggers
Devesh Sharma of Blokube.com, a social voting community
Ana Hoffman of TrafficGenerationCafe.com
Submissions to the contest will be judged on their style and quality. This will include reviews by experienced judges, as well as looking at the social metrics of each post.
About MySEOCommunity Founded by Gerald Weber, a noted SEO professional and social media enthusiast, MySEOCommunity is a moderated collection of the web's best search engine and social marketing content. What makes MySEOCommunity unique is the social signals of every user submission are evaluated prior to publication. This is done by using Wuzzrank from WebSEOAnalytics. Because only the best pieces of content are published on the site, it provides much more value to its members than sites that don't have any guidelines to control quality.
###