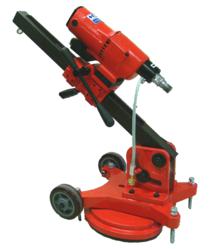 KOR-IT® is proud to support the members of the tooling rental industry.
West Sacramento, CA (PRWEB) January 20, 2012
Providing quality field tested core drill equipment and concrete core bits, to the American Rental Association membership isn't enough for KOR-IT, Inc. This Company is proud to provide continued support of the American Rental Association and the ARA Foundation through a large equipment donation to the ARA Foundation's charity auction taking place at The Rental Show Feb 7th, 2012.
What does the ARA Foundation do? It awards more than $56,000 in educational scholarships each year. It helps individuals in the rental industry who have been impacted by disasters such as hurricanes, floods or fires. And it provides advice and mentoring by experienced rental professionals.
KOR-IT, Inc.'s ™ contribution is the K-812 core drill machine plus concrete core bits. This electric core drill (pictured here) includes a KOR-IT brand electric motor with a five-year warranty, a heavy-duty combination anchor/vacuum base, 6-in. wheels and handle off the back of the carriage, water swivel, vacuum hoses and vacuum pump, and up to a 12-in. bit diameter capacity. Retail cost is approximately $5,495.
About KOR-IT®, Established in 1958, KOR-IT® is a leading manufacturer of diamond tools, including core drill machines, core drill bits, diamond saw blades, search and rescue equipment and related accessories. KOR-IT® strives to uphold our promise of providing the most durable equipment at the most favorable terms, while maintaining the best customer service rating in our sector.
Our machines compete side-by-side with our competition and drill faster, last longer and provide a more efficient drilling process. With the gasoline powered K-401 and versatile K-102 as its foundation, KOR-IT® has developed, in recent years, a product line of bits, saw blades, and more than 30 core drill machine models and accessories. Through our products, we aim to save our customers money and reduce job related injuries and loss.
KOR-IT® owes this success to meeting customers' needs and offering customer satisfaction with quality customer service as industry expertise. In addition, KOR-IT® also meets unique drilling requirements. If you don't see it, but need it, call us and we will have our design department create it.
Today KOR-IT® products are used worldwide and sold through a dedicated dealer network. It's not unusual to find a seasoned customer still using the K-401, which was purchased 35 years ago.
Our customers buy value, and we provide value daily, by making a positive improvement in their business.
###