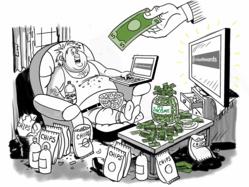 Video Scribing videos are a cutting edge tool that makes your business stand out of the clatter and noise of your competitors
(PRWEB) January 21, 2012
Video Scribe videos and Whiteboard Animation videos are powerful and have unlimited benefits when it comes to marketing. Video Scribing has just begun to hit the main stream media. It all began with RSA animate, Room 214 and Ydraw. Scribe Videos convert more prospects, maintains attention, can create more opt-ins and explain messages in a way that will be remembered forever.
Why Video Scribing Works?
How often do individuals find themselves drawn to certain types of entertainment? Human Beings love to see artists draw great pictures, as they are drawn to creativity and skill. When one sees it they will stop in their tracks and focus on the artist at work. There is truly something special about watching art come to life. Ydraw videos can capture the attention of any audience much quicker than simple text or high tech videos.
There are multiple uses and benefits of Video Scribing videos. Naming them all here is close to impossible, but if you take a look at Ydraw. There are infinite uses of Video Scribing videos. Scribe videos are powerful and are being used by some of the biggest names in commercial marketing. Successful people want to do what the best are doing, which is using Ydraw's Videos to convert, inspire, and impress.
Jace Vernon is Co-Founder of Ydraw and would love to be of service to any company.
# # #