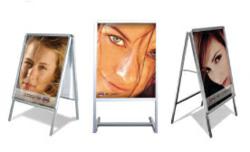 ...offering businesses the opportunity to purchase advertising tools to help build walk in traffic.
Glendale, California (PRWEB) January 19, 2012
Digital Pre-Press services announces 3 new additions to their DPSBanners.com site. The new product additions are made to the Sidewalk Signs category. This category specializes in offering businesses the opportunity to purchase advertising tools to help build walk in traffic. Companies that benefit from this type of business include the retail sector, tax professionals, barbers and other specialty niches.
The SIMPOSIGN II is one of the most highly sought after A-frame signs and now available on the DPS site. The sign is popular because it provides use for a longer time and it is easy to carry from on location to the next. The durability of this A-frame advertising sign comes from the material it is made from – plastic. In addition to durability, it has the additional benefits of not rusting, peeling, discoloring or splintering. The design is compact and lightweight for easy mobility. Many professionals find this sign highly attractive and use it for many functions, special events or as part of their normal business activity.
The Poster Display Stand PS1 is the second option available on the site. This A-Frame poster stand differs from the SIMPOSIGN II in the fact that it is made out of aluminum material. The stand itself is also slightly larger and consists of a one sided display feature. The sign is easy to use and features a snap open frame. The PS1 still maintains a compact form and can be used for indoor and outdoor applications.
The final new product on the DPS site includes the Poster Display Stand PS2. Like the previously mentioned display stand, the PS1, this stand has a snap open and close feature, is lightweight and offers easy portability. The differences come in the display ability. The PS2 offers double sided exposure and a larger viewing area. With the larger size comes a heavier weight coming in at 17 pounds versus the 10 pound PS1. When compared to other sign display options, however, it is still considered a lightweight sign display option.
DPS also offers customized large format poster printing for all of its poster stand and banner stand products. Ordering right now, during the company's monthly promotion will save businesses 10% off customized banner printing and 5% off pre-designed banners. Moreover, ordering any stand, custom banner or pre-designed banner $150 or more qualifies for free shipping.
For more information regarding A-frame sign stands, please visit http://www.dpsbanners.com
About Digital Pre-Press Services, Inc.:
Founded in 1996, Digital Pre-Press Services, Inc. is visible online at DPSBanners.com and on location in Glendale, California. The company provides simple, affordable and professionally designed banners that can be personalized and customized exclusively online. Through the site, DPS has a wide array of products including banner stands, window clings, car magnets, retractable banner stands, sidewalk signs, pre-designed banners and more.
Contact:
Digital Pre-Press Services, Inc.
Toll Free (888) 790-2665
http://www.dpsbanners.com
# # #