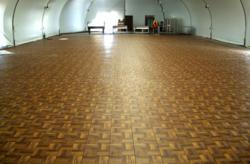 Chandler, AZ (PRWEB) January 20, 2012
RubberFlooringInc.com is now offering dance floor products for sale online. Two lines of portable dance floor tiles are currently available in 6 designer color options. All dance tiles from RubberFlooringInc.com are stocked and ready to ship within 3-5 business days and are generally considered very easy to install and maintain.
"Dance flooring is a niche many of our competitors have been in and focusing on for the past few years", states RubberFlooringInc.com Director of Operations Justin Hoverson. "We are probably a little late to the game but with our extraordinary team, we believe we can catch up in the dance floor market relatively quickly. We are launching two portable dance floor tiles to start but we plan on adding 6-10 new product lines in the next year in this competitive niche flooring market."
RubberFlooringInc.com CMO Anthony Schmidt is excited about the launch and added, "A good friend of mine recently installed dance flooring for his wife in their in-home dance studio. On top of that, I drive by a dance studio everyday on my way home from work. There is obviously a good sized market out there and we can't wait to jump in this niche flooring category and become a major player over the course of the next 6 months to a year. Add in the fact that so many primetime television shows, like Dancing with the Stars, focus on the art of dance, and that only leads us to believe the dance flooring market is going to grow over the next few years."
Dance flooring is available in portable dance floor systems as well as permanent dance studio flooring solutions. Wood and Vinyl floor surfaces are the most common dance floor surfaces. Dance floor solutions also include other options such as elevated sprung dance floors that have a "springy or bouncy" sub floor that is designed to reduce dancer impact during ballet and Irish dance.
"We have had these products ready to go for about 2-3 months now but were holding off the launch until after the busy holiday season", concludes IncStores.com Director Justin Hoverson. "We are offering 6 initial SKU's at the launch and plan to aggressively add to the product line in the near future. One tile is a vinyl topped dance floor tile while the premium dance tile actually uses real wood inlays to best mimic a wood dance floor. Our goal as of right now is to be the number one online store for dance flooring by the end of 2012. We have a lot of work to do to get to that point but we are one our way."
About Inc Stores, Owner of Rubber Flooring Inc.
Headquartered in Chandler, AZ, Incstores.com owns the leading online destination for residential and commercial specialty flooring options including RubberFlooringInc.com, FoamTiles.com, and Garage FlooringInc.com. Rubber Flooring Inc. is focused on providing numerous niche flooring products including, rubber gym flooring, playground flooring, cork flooring, martial arts mats, and more to its valued customer base. All of Inc Stores web shops offer competitive pricing, a top notch and knowledgeable sales and service, and the widest selection available. For more information, please visit http://www.rubberflooringinc.com.
###