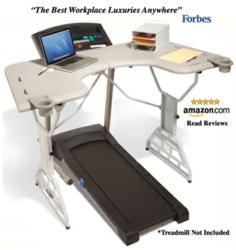 I had this desk (TrekDesk) installed in my office exactly a month ago. I love it. I walked at least 3 miles a day.
(PRWEB) January 19, 2012
TrekDesk Treadmill Desk has received favorable reviews on national and regional radio and television stations around the country. Spotlighted for its value and health benefits by Forbes, the Wall Street Journal and U.S. News & World Report, the reviews from Kentucky office and home users who use the TrekDesk treadmill desk to workout at work have also been excellent.
KC of Lexington, Kentucky found that integrating the TrekDesk into an office environment was easier than she expected. "I enjoy showing off my TrekDesk because it is sturdy and professional looking," she stated. "When visitors try out my walking desk set up I tell them that they can build a desk using plans found online, but if they want to have a professional look then TrekDesk is the way to go! I really like that it is a wrap around and has a professional look. Many people walk past my door and don't even realize I'm on a treadmill. My favorite time to use my TrekDesk is when I'm on a conference call."
CJ of Louisville, Kentucky immediately adapted to walking while working. "I had this desk (TrekDesk) installed in my office exactly a month ago. I love it. I walked at least 3 miles a day at 1.3 MPH."
"The reviews TrekDesk is receiving speaks volumes as to the effectiveness of walking while working. Our mission is to start a 'Movement Revolution', convincing Americans that movement throughout the day will dramatically improve their health, mood, weight and productivity. These reviews help ignite the conversation," stated Steve Bordley, CEO of TrekDesk.com.
Designed to fit any existing treadmill, TrekDesk treadmill desk is an affordable, full sized, height adjustable workstation that allows individuals the opportunity to gain the necessary amount of exercise daily to maintain health, prevent disease, strengthen muscles, boost mood and productivity, without requiring additional time during the day or extra motivation. Workout at work with TrekDesk. No sweat!
TrekDesk is currently available for sale online at TrekDesk.com for $479.00 including free shipping.
Join the TrekDesk "Movement Revolution" to learn more, win a free TrekDesk or ask us any questions anytime at http://www.facebook.com/trekdesk, or follow us on twitter -http://www.twitter.com/trekdesk.
###