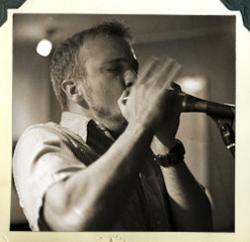 States SantaFe.com Editor Todd Eric Lovato, "R&B, rock, and funk music fans are in for a treat. Both of these bands are world class acts. Saturday night February 4, will be a night to remember."
Santa Fe, New Mexico (PRWEB) January 20, 2012
Santa Fe Winter Fiesta offers up an evening of old school rhythm and blues, old school rock 'n' roll and soulful funk with JJ Grey and Mofro and local act Felonious Groove Foundation at this year's Santa Fe Winter Fiesta, 7:30 p.m., Saturday, Feb. 4. States SantaFe.com Editor Todd Eric Lovato, "R&B, rock, and funk music fans are in for a treat. Both of these bands are world class acts. Saturday night February 4, a night to remember."
Since releasing his debut album, Blackwater, in 2001 – followed by a sophomore effort, Lochlossa, in 2004 – JJ Gray has developed a fervent following with his masterful mashup of soul, blues and southern rock. With a decade of touring and five studio albums under his belt, Grey continues to tour incessantly, bringing his original music to an ever-growing worldwide group of fans in places like the Austin City Limits Festival, the Byron Bay Blues Festival (Australia), the Montreal Jazz Festival, and Fuji Rock. Grey has shared the stage with many rock and R&B legends including Mavis Staples, Booker T. Jones, Lenny Kravitz, Ben Harper, Jeff Beck, Los Lobos, The Black Crowes, The Allman Brothers Band and B.B. King. Gray's piano, singing and songwriting is featured on a Grammy-winning album, Buckwheat Zydeco's Lay Your Burden Down, and several of his songs have appeared in film, network, and cable TV programs including House, Flashpoint, Crash, Friday Night Lights, The Deadliest Catch and the film The Hoot. In 2011 Gray came out with his first-ever live DVD/CD, Brighter Days, a two-disc set that features a full-length movie and a live album. Brighter Days features JJ Gray (harmonica, guitar and vocals) and Gray's band Mofro, which includes drummer Anthony Cole, bassist Todd Smallie, trumpet player Dennis Marion, saxophonist Art Edmaiston, organist Anthony Farrell and guitar player Andrew Trube.
Hailing from Albuquerque, New Mexico, Felonious Groove Foundation is an established award-winning band that has continued to surprise and amaze audiences for more than a decade with its own brand of funk-Latin-rock sound. The band has been the featured headliner at local venues and around the Southwest including music venues in New Mexico, Colorado and Arizona. The group has established a widespread reputation for its danceable music, packed shows and fun loving audiences. The band has shared the stage with such music stalwarts as Arrested Development, Fishbone, B Side Players, Dirty Dozen Brass Band and Dumpstaphunk (Neville Brothers). The band was voted "Albuquerque" magazine's "Best Band Headed for Superstardom" in December 2007. The group's third album, Paper Tiger, was nominated for 12 New Mexico Music Awards in 2006 and took home the trophy for "Best Musical Production in Folk/Americana" for the track, I Miss the Girl. The band's most recent release is titled "Felonious Groove Foundation Presents….Fantastic Planet", an eclectic sound driven by a new band sound coming from banjo, and slide guitar while not forgetting the bands funk and Latin roots.
Now in its second year, the Santa Fe Winter Fiesta is a 10-day celebration of music, food, film and community that begins Jan. 27 and runs through Feb. 5. The event is put on by SantaFe.com and the City of Santa Fe and also features a craft brew festival, a comedy show and a film screening. For more information about the event, visit http://www.santafe.com/winterfiesta.
Throughout the event, participating Santa Fe hotels will offer discounts on hotel stays, spa packages, dining and other services and items. Participating hotels include the following: Inn of the Governors/Del Charro Saloon, Encantado – An Auberge Resort, Eldorado Hotel & Spa, Water Street Inn, Inn and Spa at Loretto, Hotel Santa Fe and The Hacienda and Spa, Courtyard Santa Fe by Marriott, La Posada de Santa Fe Resort & Spa, Luxx Hotel, Santa Fe Sage Inn, The Bishop's Lodge Ranch Resort & Spa, Inn at Santa Fe and La Fonda on the Plaza. Visit Getaway Hosts for booking and discount information.
Tickets to JJ Grey and Mofro and Felonious Groove Foundation are $35. The 2012 Santa Fe Winter Fiesta now offers an event pass called the 2012 Winter Fiesta Adventure Pass, available for $10. Pass holders receive discounts to all Santa Fe Winter Fiesta Events. Winter Fiesta Adventure Pass holders receive $10 off the $35 ticket price to the JJ Grey and Mofro and Felonious Groove Foundation. Pass holders can take advantage of discounts to all Santa Winter Fiesta events.
Co-Sponsors for the 2012 Winter Fiesta are the Coca-Cola Bottling Company, Heineken, The Agave Lounge at the Eldorado Hotel, and Chalmers Capitol Ford Lincoln Mercury. The event is brought in part by the Museum of New Mexico Foundation and by Sierra Santa Fe Buick GMC. Other participating local businesses include Santa Fe Mountain Sports, Five and Dime General Store and La Fonda on the Plaza.
To buy tickets to the featured events of the Santa Fe Winter Fiesta events, visit http://www.santafe.com/winterfiesta.
About SantaFe.com
SantaFe.com provides Santa Fe and visitors to Santa Fe alike the most current interactive platform for events, music, arts, business, dining, and lifestyle. SantaFe.com is a division of Hutton Broadcasting. Hutton Broadcasting is located at 2502 C. Camino Entrada, Santa Fe, NM 87507
Contact Information:
Scott Hutton
SantaFe.com / Hutton Broadcasting
http://www.santafe.com
(505) 471-1067 (Media inquiries only, please)
###