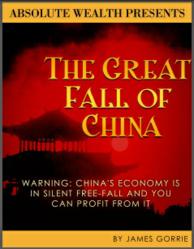 China has experienced their second year of decline in deals priced and dollars raised in the global IPO market
Austin, TX (PRWEB) January 20, 2012
With this information being revealed, by "The Great Fall of China" eBook, the investment strategies that China has carefully put into place all over the globe, may not be enough to keep them in a place of financial power. "The Great Fall of China" reports, that China has experienced their second year of decline in deals priced and dollars raised in the global IPO market, and has also acknowledged that the external environment for their development grows more complicated with each passing day.
Additional information about AW Research Publishing, and "The Great Fall of China" eBook that they recently released, includes:
Currently the $49 eBook "The Great Fall of China" is being added as a complimentary bonus, to all new subscriptions for the AW Publishing free newsletter. To receive "The Great Fall of China" complimentary copy, just subscribe to their free investment advice newsletter on the homepage of their website, AbsoluteWealth.com while the bonus is still available.
The research published by The Absolute Wealth newsletter, comes from the top experts in the financial industry, and experienced leaders that understand the intricacies of the stock markets. The Absolute Wealth newsletter is the only current independent investment alliance dedicated to bring current research and information to the American people about tried and true techniques and strategies to be used to increase their wealth. These very same techniques and strategies published in the Absolute Wealth newsletter have been used by many financial visionaries from the past, who have acquired great amounts of wealth by creating additional income streams and optimizing the ones that they already had, just from using these techniques and strategies.
The Absolute Wealth newsletter has organized this financial advice, and then categorized it into three main techniques and strategies that can help to preserve and grow wealth, and is not dependent upon what the media or Wall Street experts are predicting at the current time. Subscribe to The Absolute Wealth newsletter, and receive the $49 eBook "The Great Fall of China" as a bonus, while it is still free with every Absolute Wealth newsletter subscription, to learn more about these legendary techniques and strategies.
###