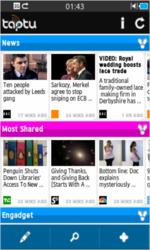 Cambridge, England & Denver (PRWEB) January 19, 2012
Taptu, the social media and mobile search technology company, today launches its popular social newsreader app on Samsung Bada devices.
The new app represents Taptu's expansion to feature phones and cements its dedication to a cross-platform, global strategy with apps on iOS, Android, Barnes & Noble NOOK Tablet, Amazon's Kindle Fire and now Samsung Bada phones. Taptu for Bada gives users access to Taptu's signature StreamStore, which features over 200,000 unique streams comprised of an array of popular websites and blogs spanning almost every topic.
"What has always set Taptu apart from competitors is our extensive news aggregating platform and algorithms," said Mitch Lazar, CEO of Taptu. "Taptu for Bada is an extension of our vision for a Taptu app for any mobile device."
Taptu for Bada also features the StreamStudio that lets users DJ the news, mixing and matching the topics and sources to create the perfect stream of news for them and their unique set of interests. The combination of high quality hardware and touch-based user interface on Bada devices make them an ideal fit for Taptu's slick, visually engaging reading experience.
As part of the launch Taptu is also announcing that Samsung will be featuring Taptu on two Bada phones, the Wave M and Wave 3. This will provide users a turnkey solution for accessing and organizing all the news that is important to them.
Bada users can download the app here:
http://www.samsungapps.com/topApps/topAppsDetail.as?productId=G00003446609
About Taptu:
Founded in 2006, Taptu is an award-winning social media and mobile technology company based in Cambridge, England, and Denver, Colorado. Taptu builds innovative platforms, tools and applications that enable highly personalized creation, curation, recommendation, search, discovery, management, consumption and sharing of content across all personal screen-based devices. Wapedia, Taptu's popular mobile Wikipedia with over 2 million downloads, is also available for download at the Apple App Store, Android Market, Amazon Appstore and as a Barnes & Noble NOOK app.
See http://www.taptu.com for more information.
# # #