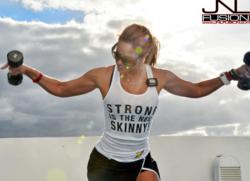 Jennifer Nicole Lee Celebrates Super Successful Turn Out to Her 2nd Annual JNL Fusion World Conference. www.JenniferNicoleLee.com
Miami, FL (PRWEB) January 20, 2012
Highly sought after international fitness celebrity Jennifer Nicole Lee just wrapped up another huge success milestone, adding another block of achievements to her columns of accolades. JNL now celebrates closing out her 2nd Annual JNL Fusion World Conference, where women flew in from every corner of the globe to enjoy a weekend with Jennifer Nicole Lee, become another one of her elite JNL Fusion Certified Master Trainers, and enjoy various seminars and workshops with her and her team.
Highlights included three JNL Fusion workouts, lead by JNL and her advanced Master trainer athlete and her personal coach William Del Sol, also known as Coach Wicked Willie. Showcasing the modified variations of the "hottest" workout method on the planet, was over 45, fit and fabulous mom of 4, Unni Greene, lovingly coined The Diet Diva. With JNL as the Grand Master of this elite training method, Jennifer showcased some of her most favorite trademark JNL Fusion Signature Cardio moves, such as "Snatch & Grabs", "Titanium Tucks", "Hot Coals", "Fusion Glides", and "Fusion Skiers". Using her http://www.JNLGymBoss.com 30 second timer, she was able to move from athlete to athlete, inspiring them with her often known sayings such as "Strong is the New Skinny", "Kiss My Abs", and also "Never Give up, never give in and always train to win."
What made this JNL Fusion World Conference so extraordinary was the women who came near and far, all looking to reinvent themselves and reignite their fitness pasison with the power of JNL Fusion. On the roster of countries where ladies came in from are the United Kingdom, Isle of Man, Germany, Lithuania, Norway, and also of course all over the United States. Each women who attended gave a testimony that the JNL Fusion Method empowered them to stop making excuses and to start training the JNL Fusion way, because of how efficient it is. JNL Fusion is known for its key selling points such as time efficient, it can be performed in a small space, little equipment is needed, its for all ages and fitness levels. Other benefits and features to Jennifer Nicole Lee's JNL Fusion method are that one is not overtraining, but exercising effectively for fast & rapid weight loss results that are however long lasting.
One attendee stated why she enjoys the method, quoting, "I love how Jennifer Nicole Lee is such a leader, and shows me that I can have a fitness model body, even if I am not one, and that yes, 'strong is the new skinny', and I am not spending thousands of dollars in the gym, and training for hours on end. I love how its also functional training, giving me more energy, power and strength to live my super demanding lifestyle. I now have boundless energy to multi-task without getting burned out, and also have body strength to lift up my kids, move my furniture, and bring in the groceries."
In closing, when asked what the future is for JNL Fusion, Jennifer responded, "This method is revolutionizing the way people will train forever. Long past are the endless cardio sessions, adn training for 3 hours at a time. There is such a huge demand for the JNL Fusion Training method, and what we all need to realize that the DVD's haven't even been released yet. When the exercise DVDs are released worldwide, that's when this method of JNL Fusion will hit the fan, and all will want to be infused with Fusion!" Additional merchandise is also enjoying lucrative sales from this training method, such as her http://www.JNLClothing.com line which includes tank tops, t-shirts, baseball hats, boy shorts, and training zip up hoodies.
Jennifer Nicole Lee did confirm that the World Conference will be held every year in Miami during Martian Luther King's Holiday weekend in January. She is planning a USA city tour for the year of 2012, with dates yet to be released. For more info, please visit http://www.JenniferNicoleLee.com
# # #