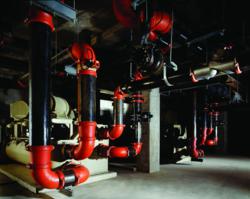 Chicago, IL (PRWEB) January 23, 2012
AHR Expo (Booth #4135) January 23-25, 2012 – Victaulic, the world's leading manufacturer of mechanical pipe joining systems, will feature the latest advancements in grooved mechanical piping and hydronic balancing at the AHR Expo this week in Chicago. The company will exhibit its line of pipe-joining products at booth 4135, and will also provide coverage of selected educational sessions, the expo hall and other show updates via the Victaulic Twitter feed and AHR blog.
At the booth, Victaulic will showcase its innovative piping products that make HVAC system installation and maintenance more efficient. Among the products on display will be the Victaulic patented Advanced Groove System (AGS) line of large-diameter grooved couplings and fittings. Originally available for 14-24 inch diameter pipe, Victaulic recently expanded the AGS line for piping systems up to 60 inches in size.
Victaulic AGS couplings are the only large-diameter grooved couplings on the market to feature two-piece housing segments. These couplings offer contractors unprecedented speed of assembly compared to couplings featuring multi-segment housings. For engineers, Victaulic AGS couplings feature a patented wedge-shaped groove that can handle higher end loads and a higher pressure rating of up to 350 psi/2,400 kPa, depending on the pipe size and wall thickness.
The AHR Expo is one of the largest HVACR events in the industry. The annual event brings together more than 1,900 exhibiting companies and over 53,000 industry professionals from across the United States and more than 130 countries.
For more information on the Victaulic Advanced Groove System and other grooved mechanical pipe-joining products and hydronic balancing technology, stop by booth 4135 at the AHR Expo, or view our HVAC piping solutions on our new website.
About Victaulic
Founded in 1925, Victaulic is the world's leading producer of mechanical pipe joining systems. Headquartered in Easton, Pa., Victaulic has manufacturing and distribution facilities worldwide and employs more than 3,500 people. The company develops products and services for some of the world's most demanding markets, including oil, gas and chemical; mining; power generation; water and wastewater treatment; and military and marine systems; as well as commercial building and fire protection applications. Keep in touch with Victaulic on Facebook, Twitter or LinkedIn.
# # #