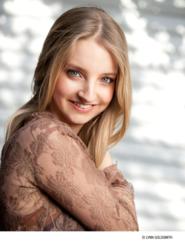 De la Salle played so well that, for much of the concert, the audience had to remember to breathe...the exhilaration didn't let up for a second until her hands came off the keyboard and everyone could finally come up for air.
Baltimore, Md. (PRWEB) January 21, 2012
American conductor James Gaffigan will lead the Baltimore Symphony Orchestra and French pianist Lise de la Salle in Mozart's popular and passionate Piano Concerto No. 20 on Thursday, February 16 at 8 p.m. at the Music Center at Strathmore and Friday, February 17 at 8 p.m. at the Joseph Meyerhoff Symphony Hall. Award-winning pianist Lise de la Salle, at 23-years-of-age, has amassed international attention for an artistry and musical maturity far beyond her years. Performing the work of another pianist who met fame at a young age, she will make her BSO debut with Mozart's Piano Concerto No. 20. Showcasing the masterworks of German, Romantic-era composers, Maestro Gaffigan will also be conducting Brahms' Tragic Overture, Wagner's Overture to The Flying Dutchman, and Richard Strauss' Death and Transfiguration. Please see below for complete program details.
One of only two piano concertos he wrote in a minor key, Mozart's Piano Concerto No. 20 is regarded as one of his most Romantic compositions. In fact, Beethoven admired Mozart's twentieth concerto above all others, and it was the only Mozart concerto that Beethoven ever publicly performed. The power and dark beauty of the piece spoke volumes to 19th Century composers, like Beethoven, in ways quite unlike other Classical compositions. Since performing her first major concert at age nine in a live broadcast on Radio-France, Lisa de la Salle has become recognized as "a talent in a million" (Gramophone). A review by The Washington Post proclaimed, "De la Salle played so well that, for much of the concert, the audience had to remember to breathe...the exhilaration didn't let up for a second until her hands came off the keyboard and everyone could finally come up for air."
When University of Breslau conferred an honorary doctorate degree on Brahms in 1880, he was prompted to write the Academic Festival Overture, which he described as "a very jolly collection of student songs." And it seems Brahms' melancholy temperament spurred him to write a contrasting companion piece, Tragic Overture, stating of the pair, "one weeps while the other laughs." Opening with two loud, crashing chords, in symbolic testimony of tragedy's violent power and ending in emphatic defiance, the Tragic Overture is "one of those pieces that stubbornly remains new and challenging," in the words of music critic Michael Steinberg.
Wagner's fourth opera tells the story of an unnamed Dutchman who is condemned to sail the seas until the Last Judgment, touching land only once every seven years until he finds a faithful woman who will sacrifice herself for his redemption. The overture begins with a horn-call –associated with the Dutchman throughout the opera – over the storminess one would expect to find in an opera centered amidst the roar of the sea. As the storm dies down, the English horn introduces the theme of Senta's ballad, portraying the faithful woman who expresses her longing for the Dutchman even before she has met him. The storm returns, and a jaunty sailors' dance tune comes into play, but the theme of Senta's ballad returns in a soaring conclusion.
German composer Richard Strauss once bragged that he could describe a knife and fork using only music. Though he certainly never put pen to paper on this smug assertion, Strauss certainly sought to tell stories in graphic detail through his tone poems. One such tone poem is Death and Transfiguration, which seeks to portray a man on his deathbed, suffering immense physical pains, thinking back to fond memories, regretting idealistic aims he failed to realize in his lifetime, and then giving up his soul to the eternal cosmos to finally discover glorious fulfillment of the ideal he never accomplished on earth.
James Gaffigan, conductor
Hailed for the natural ease of his conducting and the compelling insight of his musicianship, James Gaffigan continues to attract international attention and is considered by many to be the most outstanding young American conductor working today. In January 2010, he was appointed Chief Conductor of the Lucerne Symphony Orchestra and Principal Guest Conductor of the Netherlands Radio Philharmonic Orchestra.
In the United States, Mr. Gaffigan has guest conducted the Cleveland Orchestra, the Chicago, St. Louis, Detroit, Cincinnati, Houston, Indianapolis, Vancouver, Seattle and New World symphonies and the St. Paul Chamber Orchestra among others. During the 2011/12 season, he makes debuts at the Spoleto Festival, the Philadelphia Orchestra, Los Angeles Philharmonic, Atlanta Symphony, London Philharmonic, Czech Philharmonic, the Sydney Symphony and returns to the Minnesota Orchestra and the Toronto, National, Dallas, Baltimore and Milwaukee symphonies.
James Gaffigan made his professional opera debut at the Zurich Opera in June 2005 conducting La Boheme. In the summers of 2009 and 2010 he conducted performances of Don Giovanni and Marriage of Figaro at the Aspen Music Festival and made his debut at Glyndebourne sharing a production of Cosi fan tutti with Sir Charles Mackerras in spring 2010. He led performances of Marriage of Figaro at the Houston Grand Opera in spring 2011, makes his debut at the Vienna State Opera later that year conducting La Boheme and returns to Glyndebourne in spring 2012 for a production of La Cenerentola.
Lise de la Salle, piano
In just a few years, through her international concert appearances and her award-winning Naive recordings, 23 year-old Lise de la Salle has established a presence as one of today's most exciting young artists and a musician of uncommon sensibility and maturity.
A native of France, now living in Paris, Ms. de la Salle first came to international attention in 2005, at the age of 16, with a Bach/Liszt recording that was selected as "Recording of the Month" by Gramophone Magazine. She was similarly recognized in 2008 for her Naive recording of first concertos of Liszt, Prokofiev and Shostakovich – a remarkable feat for someone only 20 years old. This season brings the release of Ms. de la Salle's fifth CD - a Chopin disc including a live recording of the Piano Concerto No. 2, opus 21 with Fabio Luisi conducting the Staatskapelle Dresden, as well as the Four Ballades.
In this country she has played with the Boston Symphony, Chicago Symphony at the Ravinia Festival, San Francisco Symphony, twice with the Los Angeles Philharmonic and she will make her second appearance with the Minnesota Orchestra in the Gershwin Concerto in F this season. During the past few seasons, Ms. de la Salle's North American appearances included recitals in New York, Montreal, San Francisco, Vancouver, Quebec, St. Paul, at the Gilmore International Keyboard Festival, Duke University and in Miami, among others. In April 2006, Ms. de la Salle made her Lincoln Center debut, performing Liszt's Concerto No. 1 with the Orchestra of St. Luke's conducted by Keith Lockhart. She has also been heard in Berlin, London and Paris and made concerto appearances in Lisbon, Copenhagen, St. Petersburg, and Lyon.
COMPLETE PROGRAM DETAILS
BSO Classical Concert: The Genius of Mozart
Thursday, February 16, 2012 at 8 p.m. –Music Center at Strathmore
Friday, February 17, 2012 at 8 p.m. – Joseph Meyerhoff Symphony Hall
James Gaffigan, conductor
Lise de la Salle, piano BSO DEBUT
Brahms: Tragic Overture
Mozart: Piano Concerto No. 20
Wagner: Overture to The Flying Dutchman
R. Strauss: Death and Transfiguration
Tickets range from $28 to $88 and are available through the BSO Ticket Office, 410.783.8000 or BSOmusic.org.
###