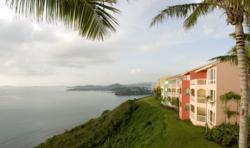 Discover Why Puerto Rico Does It Better
San Juan, PR (PRWEB) January 23, 2012
Puerto Rico has always been known for its beautiful white beaches and vibrant nightlife, yet the Island has even more to offer discerning travelers seeking for exceptional Puerto Rico vacations. Between the Island's unique golf courses, plush spas and multi-culturally infused cuisine, Puerto Rico defines luxury.
Luxurious Lodging
Travelers looking for a glamorous San Juan getaway should consider the Ritz Carlton San Juan Hotel, Spa & Casino, which pairs dazzling nightlife with great restaurants and amazing suites. Visitors can take advantage of the exclusive casino, the state-of-the-art Caribbean spa or dine at the hip Sushi Bar. Nearby La Concha Marriott Renaissance Resort, located minutes away from the pristine beaches of Isla Verde, greets guests with its contemporary design theme, soothingly lit rooms and white minimalist décor.
For those seeking a unique boutique hotel experience in San Juan Puerto Rico, consider Hotel El Convento, a prime example of a small, luxury hotel. A Carmelite convent built three centuries ago, Hotel El Convento has been renovated with modern amenities, but still retains its colonial charm with features such as marble chessboard floors and mahogany furniture.
For the more adventurous traveler, resort hotels such as the St. Regis Bahia Beach Resort and the Waldorf Astoria El Conquistador Resort and Las Casitas along Puerto Rico's magnificent Eastern coast offer every activity under the sun, from golf to snorkeling to windsurfing. These resorts boast world-class spas, sparkling pools and relaxing beaches.
On the western coast in Rincón, the Horned Dorset Primavera Hotel, which caters to only to guests aged 18 and older exemplifies what this part of Puerto Rico is all about. Hidden on a secluded beach, the Horned Dorset promotes the art of relaxation with no phones, televisions or radios in the guest rooms.
Premium Golf
With more than 20 courses, Puerto Rico boasts the finest golf in the Caribbean. This starts with The Trump International Golf Club in Rio Grande, site of the 2012 PGA tournament Puerto Rico Open. Located in golf-rich Río Grande, the Tom Kite-designed, 36-hole club features four unique nines with water views at every turn.
Bahía Beach Resort and Golf Club, designed by Robert Trent Jones, Jr. and located at the St. Regis Bahia Beach Resort, preserves the natural integrity of the original site. In fact, every aspect of the golf course was guided by Audubon International to ensure minimum impact on the environment, making it the first in Puerto Rico to become a Certified Gold Audubon International Signature Sanctuary. Bahía, an 18-hole course totaling 6,979 yards, offers amazing seaside views and tee sets for pros and beginners.
Indulgent Spas
Equipped with the most advanced facilities, staff and services and surrounded by a tropical paradise, Puerto Rico's spas treat guests to experiences found nowhere else. If visiting San Juan, consider booking an appointment at The Spa at The Ritz-Carlton San Juan Hotel and Casino. Signature therapies include Café con Leche, an exfoliation using Puerto Rican coffee; Borinquen Body Polish, which uses a tropical fruit extract to remove dead skin from the body; and the Cleopatra, a hydrotherapy milk-bath maximizing the effect of fatty acids, amino acids and vitamins.
At Mandara Spa at Rio Mar Beach Resort & Spa, therapists and aestheticians bestow their expert touch to resonate and restore. It specializes in Balinese-inspired services such as massage and aromatherapy. Visitors should try the spa's signature treatment – a four-hand massage with two therapists working in synchronicity and serene silence.
For South Coast visitors, the Bodyderm Spa at the Copamarina Beach Resort concentrates on massages and full body treatments. Specialties include an anti- cellulite application and an Aroma Steam Capsule, a 15-minute European therapy that combines the physical and mental benefits of steam and aromatherapy.
For more information, visit: http://www.seepuertorico.com
About the Puerto Rico Tourism Company
The Puerto Rico Tourism Company (PRTC), founded in 1970, is a public corporation responsible for stimulating, promoting and regulating the development of the tourism industry. It markets Puerto Rico as a tourism destination through advertising, public relations and promotional activities; promotes tourism among local residents; provides visitor orientation and technical assistance to investors; evaluates tourism facilities and establishes standards of quality; and regulates and oversees gaming operations. PRTC has offices & representatives in the U.S. mainland, Canada, Europe and Latin America.
###