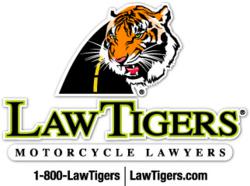 "When I saw what happened, I just had to do something," said Steven Sanchez. "We just couldn't stand by and let this happen."
Denver, Colorado (PRWEB) January 23, 2012
According to court documents, when Steven Sanchez and Jason Perez chased down a drunk driver who fled the scene of an accident last summer, they didn't do it for a reward or recognition. However, because their actions led to the arrest and conviction of the perpetrator, Sanchez and Perez received a check for $10,000 from Law Tigers, America's Motorcycle Lawyers. (Adams County Court Case # 10CR198)
Tom Metier of Colorado Law Tigers gave the two boys, both 19, the Law Tigers Hit & Run Reward, which recognizes individuals who assist in the felony conviction of a driver responsible for a hit-and-run motorcycle accident. According to court documents, after Sanchez and Perez witnessed Efrin Villegas crash into motorcyclist Jon Brand and his fiancé Debbie Pyatok on July 10, 2010, Villegas sped off.
According to court documents, Sanchez and Perez pursued him to a dead end, where he and his passenger tried to flee on foot. The teens were able to detain the passenger until police arrived. Their quick thinking and courageous response led to the arrest the next day of Villegas, who later pleaded guilty to vehicular homicide and is now serving nine years in prison.
Tragically, according to court documents, Brand, 59, was killed in the crash. Pyatok, who was severely injured, nominated the two young men for the honor. "I want to thank them again," said Pyatok. "I wouldn't have been able to rest at night (without their help)."
In an interview at the check presentation, the boys say instinct and a desire to see justice led them to chase the fleeing vehicle that night. "If I had to do it all over again, I would," said Perez. "I wasn't really in fear for my life. I was just thinking, 'How does someone leave a scene like that?'"
Perez, 19, who will graduate this May from Denver Justice High School, said he'll spend some of the money on Christmas gifts and potential college expenses. North High School graduate Sanchez, also 19, says the money will go to his three-week-old son and fiancé. "When I saw what happened, I just had to do something," said Sanchez. "We just couldn't stand by and let this happen."
"People who serve the needs of the community deserve to be recognized," said Metier, of Colorado Law Tigers. "I know that all of us hope that our own sons would be as brave as Steven and Jason were if they saw someone being hurt, and we are so glad to be able to honor them for their heroism."
About Law Tigers
Law Tigers is a national network of local motorcycle accident attorneys committed to protecting fellow motorcycle riders and helping family members of those killed or injured in motorcycle accidents. For more information visit: http://www.lawtigers.com/.
###