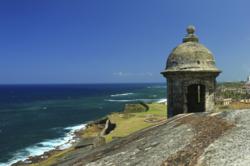 Discover Why Puerto Rico Does It Better
San Juan, PR (PRWEB) January 23, 2012
Puerto Rico provides the ideal spring break getaway for families with the excitement and exotic atmosphere of a tropical paradise, combined with the convenience of traveling within the United States. The fact that no passport is required for U.S. citizens traveling to Puerto Rico means a convenient playground awaits your entire family, and more than 420 weekly direct flights from 21 U.S. cities helps make Puerto Rico one of the most convenient Caribbean getaways.
Hello affordability, greetings luxury: Family-friendly accommodations
Puerto Rico boasts many hotels and resorts that are ideally suited for families, offering children's programs that make family travel fun and easy. These programs offer a variety of family activities, as well as babysitting services and special children's menu items. A few examples include:

The Intercontinental Hotel provides families with convenient access to the airport and many of the area's best attractions as well as prime beachfront access on Isla Verde, frequently recognized as San Juan's best beach. The hotel's day care and activity center, Planet Trekkers Kids, offers supervised activities for children between the ages of 4-12.
The Caribe Hilton is located in the heart of San Juan Puerto Rico and is one of the most family-friendly hotels on the Island. Children under 18 stay free in their parents' room. Its children's club, V.I.C. (Very Important Children), offers weekly activities situated around the hotel's two swimming pools, 17-acre tropical park and private beach.
Hot sun, lots of family fun: Unique adventure activities
Whether your family is ready for high-energy adventure or moderate-level exploration, Puerto Rico's beautiful natural attractions and vibrant landscape make the Island a paradise for eco-tourism and adventure. Below are a few activities that both parents and children won't want to miss:
Children will never forget a visit to Puerto Rico's bioluminescent bays. On moonless nights, tiny organisms in the water produce incredible glowing waters. Two of the best are Mosquito Bay in Vieques and Las Croabas Lagoon in Fajardo.
Rio Camuy Cave Park, one of the world's largest underground cave systems located in the central region, is both an educational and adventure excursion. Families can ride trams into the 170-foot high Cueva Clara, lined with dense tropical vegetation, or up to a platform overlooking the 400-foot deep Tres Pueblos Sinkhole. The park is equipped with picnic areas, walking trails and food facilities.
El Yunque, one of the most beautiful natural rainforests in the world, gives children an opportunity to see cascading waterfalls, unusual tropical plants, exotic birds and wildlife unique to the rainforest. Tours are available, and families can arrange in advance to camp overnight amongst the tropical beauty of this site.
No classroom, lots of learning: Cultural activities
Besides fun and sun, children receive a living education on the Island's history and culture. Activities your family will treasure include:
Old San Juan is a magnificently preserved Spanish colonial city, admired for its architecture and cobblestone streets. The main square includes museums, fortresses, churches, government buildings and historic homes. Next to the Cristo Chapel is the famed, "Parque de las Palomas," or Pigeon Park, where children and their parents enjoy feeding the birds that live there nestled among the Old City Walls.
The Children's Museum, also in Old San Juan, features a variety of hands-on exhibits for kids to explore. Children can participate in the camerino exhibit, or discover health exhibits that illustrate how the body works. Closed on Mondays.
One of the most architecturally unique and whimsical sights in Ponce is the Parque de Bombas, or fire station, located in the Plaza de Las Delicias. With its bright colors and antique red fire truck, this attraction is sure to be a hit with families. It was constructed in 1882 and designated the Island's first permanent headquarters for a volunteer fire-fighting brigade.
Whatever you plan to do on your next Puerto Rico vacations, having loads of fun is always a sure thing!
For more information on Puerto Rico's family activities and accommodations, visit http://www.seepuertorico.com.
About the Puerto Rico Tourism Company
The Puerto Rico Tourism Company (PRTC), founded in 1970, is a public corporation responsible for stimulating, promoting and regulating the development of the tourism industry. It markets Puerto Rico as a tourism destination through advertising, public relations and promotional activities; promotes tourism among local residents; provides visitor orientation and technical assistance to investors; evaluates tourism facilities and establishes standards of quality; and regulates and oversees gaming operations. PRTC has offices & representatives in the U.S. mainland, Canada, Europe and Latin America.
###