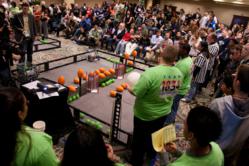 SIATech Robotics team helped me grow closer to my schoolwork, it makes me more confident, it makes me know I can succeed…beforehand I had dropped out of school and I didn't think I could do it," commented Mark Thomas, SIATech Robotics team member.
San Francisco, CA (PRWEB) January 20, 2012
On Saturday, January 28, the SIATech Treasure Island will be hosting a VEX Robotics tournament at its school site in San Francisco on Treasure Island. The tournament will include approximately 24 teams from middle and high schools around the Bay Area. Three SIATech schools will be represented: SIATech Sacramento, SIATech San Jose, and SIATech Treasure Island.
This tournament is interesting because it is hosted by a school focused on dropout recovery. These students have chosen to re-enroll in high school and will compete and collaborate with traditional schools in the region. Nearly all SIATech Robotics participants graduate from high school and many go on to college and careers in science, technology, engineering, or math. Each student has a story of dropping out of school and how the SIATech Robotics program is making a difference in their lives.
WHAT: Treasure Island Bay Area VEX Robotics Competition
http://robotevents.com/treasure-island-bay-area-vex-robotics-challenge.html
WHEN: Saturday, January 28, 2012 (all times below are approximates)
10:00 am Welcome from Senator Mark Leno
10:15 am – 4:00 pm - Competition
4:00 pm Championship Match and Awards Ceremony
WHERE: Treasure Island Job Corps Center – 351 Avenue H, San Francisco, CA 94130
A short video on our school's Robotics program can be viewed here: http://youtu.be/ABmJMh3oclI
About SIATech
The School for Integrated Academics and Technologies (SIATech®) is an award-winning dropout recovery program. SIATech is a network of fully accredited public charter high schools based in Oceanside, California, that operates in partnership with the federal Job Corps and Workforce Investment Act programs. The school serves low-income, previously out-of-school youth.
SIATech excels at identifying student strengths and individualizing instruction to meet each student's needs and goals. The school's safe and caring setting enables students to take charge of their learning and obtain the tools they need for lifetime success, whether it is at their chosen career or further education. Nearly 12,000 out-of-school youth have graduated from SIATech's 16 campuses.
###