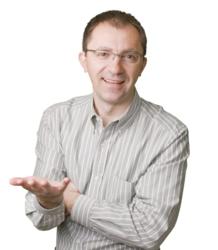 IAC judges set the standard of excellence for online advertising development.
Rochester, NY (PRWEB) January 24, 2012
Damir Saracevic, Director of Digital Marketing at Catalyst, a direct and digital marketing agency, has been chosen to judge the prestigious 2012 Internet Advertising Competition (IAC), sponsored by the Web Marketing Association.
According to Web Marketing Association President William Rice, the IAC judges help set the standard of excellence for online advertising development and share their expertise to improve what is expected from online advertising.
Saracevic brings to the IAC competition more than 15 years of experience developing and driving digital strategy. In 1995, he co-founded Auragen Communications, which grew to become one of the Northeast's largest Web development and Internet marketing companies, and was acquired by Catalyst in 2007. Saracevic's areas of expertise include Web development, user experience, mobile marketing, email marketing, search engine marketing (SEM), search engine optimization (SEO), display marketing, social media marketing, business process development, and Web analytics.
About the Web Marketing Association
The Web Marketing Association (http://www.webmarketingassociation.org) is an organization working to create a high standard of excellence for Web site development and marketing on the Internet. Staffed by volunteers, it is made up of Internet marketing, advertising, PR and design professionals who share an interest in improving the quality of online advertising, Internet marketing and promotion used to attract visitors to Web sites. The Web Marketing Association's two annual award programs, the WebAward Competition and the Internet Advertising Competition Awards, have been helping interactive professionals promote themselves, their companies, and their best work to the outside world since 1997.
About Catalyst
Catalyst (http://www.catalystinc.com) is a direct and digital marketing agency that helps clients acquire, retain and develop long-term relationships with their customers. We combine intellectual curiosity and inquisitiveness with hard-core analytics, deep customer insight and a measurement mindset to take the guesswork out of marketing decisions. We call it Science + Soul. Headquartered in Rochester, NY, our clients include AAA, Assurant Health, Eastman Kodak Company, First Niagara Financial Group, GE Capital Retail Bank, Heraeus Kulzer, Neff Motivation Inc., Oreck, and Valvoline, among others.
Follow us on:
Facebook:
http://www.facebook.com/scienceplussoul
Twitter:
http://twitter.com/scienceplussoul/
LinkedIn:
http://www.linkedin.com/company/26721
###