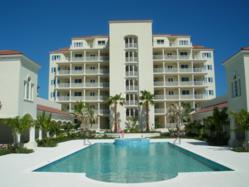 "Hosting couples is always a treat because, more often than not, they're celebrating a special occasion."
Terria Misick, General Managaer
Providenciales, Turks and Caicos Islands (PRWEB) January 21, 2012
With Valentine's Day less than a month away, The Venetian Grace Bay is helping couples from all over the world plan that romantic getaway with these two special incentives:
Pay for three nights and get a fourth night free and also receive two free massages on-site while enjoying strawberries, champagne, and the Caribbean.
The Venetian Grace Bay opened in the fall of 2011, and it is Provo's best-kept secret. It's new, it's beautiful, and it sits on one of the best stretches of Grace Bay Beach. The Venetian promises to become one of the most popular luxury boutique properties on Providenciales. With just the right amount of ameneties and spacious condominium suites, travelers will never want to leave, unless of course they catch a glimpse of a perfect sunny day from their private, screened-in balconies. The Venetian's massage therapist is always on call, so that couples who want a bit of pampering need only pick up the phone.
"We're very happy with everything about the Venetian," said Terria Misick, the property's general manager. "Hosting couples is always a treat because, more often than not, they're celebrating a special occasion. We enjoy finding ways to spoil our guests and help them relax."
Providenciales is only a 45 minute plan ride from Miami, and many carriers offer direct flights so the Caribbean has never been closer. Call 1-877-277-4793 to learn more about The Venetian Valentine's Day Package or to check availability.
About The Venetian Grace Bay
Grace Bay Beach's newest resort offers inspired Caribbean living - a serene and luxurious year-round home or holiday escape. These words from Henry James are apt: "You desire to embrace it, to caress it, to possess it; and finally a soft sense of possession grows up and your visit becomes a perpetual love affair." For more information about booking or purchasing, call 1-877-277-4793 , email reservationsatthevenetiangracebay.com or find The Venetian Grace Bay on Facebook.
###