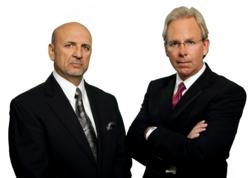 Olivier suffered horribly. We are taking a very hardline approach against the defendant on behalf of Olivier and his family.
Newport Beach, California (PRWEB) January 20, 2012
The Orange County, California personal injury attorneys of BISNAR CHASE (http://www.BestAttorney.com) have filed a lawsuit against Healthcare Services Group, Inc. (HSG) stemming from a child poisoning incident that left a 2-year-old Riverside County boy severely injured.
The case, filed in Orange County Superior Court (case #30-2010-00370340), was brought against the defendant by Sergio Maciel on behalf of his son Olivier, the victim in this case. Trial is set for April 2012.
Poisonous Cleaning Solution Severely Injures Riverside County Toddler
According to court documents, Healthcare Services Group, Inc., a Pennsylvania-based housekeeping and laundry services company licensed to do business in southern California, was hired by an Orange County healthcare facility to provide cleaning services in November 2008.
Around this time, 2-year-old Olivier Maciel accompanied his mother to the healthcare facility to visit his great-grandmother who was a resident there. While on the patio of the facility, Olivier discovered and then ingested a blue poisonous cleaning solution, believed to be liquid laundry detergent, left in a drinking cup by a staff member of HSG.
According to the first amended complaint, the caustic laundry detergent was used to clean wheelchairs at the facility and was poured into drinking cups from a larger container for easier transport to areas in and around the building. Upon ingestion, Olivier suffered severe internal injuries in addition to impaired bodily function and disfigurement.
The complaint goes on to say that the HSG employee believed to be responsible for leaving the cup containing the poisonous solution on the patio was the sole supervisor and on-site manager of HSG at the time of the incident, and that he allegedly had a history of terminations, demotions and transfers from other healthcare facilities in and around Orange County.
Also, prior to Olivier's poisoning, court documents indicate the supervisor had allegedly been previously reprimanded by healthcare facility employees on previous occasions for leaving cups of poisonous cleaning solution in areas where residents and visitors could access them.
"Olivier suffered horribly," said Brian Chase, Orange County personal injury attorney and partner at BISNAR | CHASE. "We plan to show in court that the HSG staff member willfully and consciously disregarded the safety of others time and time again even after being reprimanded, which constitutes malice in this case. We are taking a very hardline approach against the defendant on behalf of Olivier and his family for the horrific pain, suffering and lifelong implications this poisoning has caused."
The lawsuit seeks compensation for severe bodily injury, physical and mental pain and suffering, disfigurement, impaired bodily function, medical bills, future economic losses and punitive damages.
About BISNAR CHASE
The BISNAR CHASE Personal Injury Attorneys represent people who have been very seriously injured or lost a family member due to poisoning, car accidents, defective products, negligence, nursing home abuse and more. BISNAR CHASE Orange County, California personal injury attorneys have won a wide variety of challenging serious personal injury, wrongful death and defective products cases against individuals as well as Fortune 500 companies. For more information, please visit http://www.BestAttorney.com
###