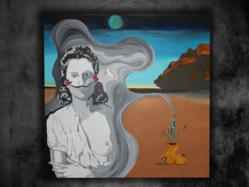 Surrealism has always fascinated me.
Dallas, Texas (PRWEB) January 23, 2012
On the 23rd anniversary of Salvador Dalí's death, Dallas artist Katie Glantz has completed her new collection with a portrait of the Spanish surrealist painter's wife, Gala.
The Femme Historique Concatenation collection uses a monochromatic palette with strong images of influential women such as the iconic sex symbol Marilyn Monroe, jazz singer Billie Holiday, Hollywood movie star Rita Hayworth, American actress Carole Lombard, fashion supermodel Gia Carangi, comedian Lucille Ball, queen of pinups Bettie Page, and fashion icon Coco Chanel.
"I am always drawn to my latest work and particularly my last painting in the collection – Gala – which is an homage to Salvador Dalí," says Glantz. "It's the first painting in which I've used color. Surrealism has always fascinated me, and this is a transitional piece which shows who I am as an artist.
"The entire collection shows my growth as a woman and as an artist. Life brings so many challenges and we must face them head on to overcome obstacles. Art became my refuge during turbulent times, and each woman I painted became my subject, my guidance and light."
The technique used to create these artworks give reference to Glantz's extensive graphic design background. She uses acrylic paint in combination with lightly accented Swarovski crystals, and the power of black and white imagery and reflection of light gives the illusion the paintings are coming to life by interacting with your eye.
To achieve a perfect photographic appearance, Glantz paints with extremely tiny brushes to create crisp edges. Her skilled execution, from sketch to canvas, mixed black and white acrylic paints, and perfect placement of Swarovski crystals, has to be seen with the naked eye.
Katie Glantz sprung to prominence in 2011 when her three-panel painting of Olympic swimmer Michael Phelps drew praise from the athlete himself, who enthusiastically Tweeted his approval.
About the Artist
Katie Glantz is an American artist from Oak Cliff, Texas, and internationally recognized graphic designer. Her work has been showcased in many publications, including Mac Design, and she was the first woman to be profiled by D Magazine's Dallas CEO.
Founded in 1999, her design firm JABEYE continues to flourish, with a roster of international clients that includes Pink Floyd. The company has won many accolades – including 'Best of Category for Print' in the Graphic Excellence Awards, and a Webby Award for DavidGilmour.com – which are a testament to the widespread appeal of her work.
Local clients include national names – Quality Telephone and Clearview Energy – along with global brands such as Smirnoff, Captain Morgan, and Jose Cuervo. Notably, JABEYE was awarded the contract to rebrand the City of DeSoto.
Known for clean, uncluttered and timeless design, Katie Glantz returned from a trip to Mumbai in April 2011, where she produced a book cover, Vajramushti – The Martial Art of India, for an Indian author and his American publisher.
# # #