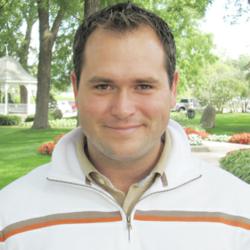 "Having been a manufacturer representative for over 12 years, no other company I have been involved with has shown the growth that Vortex has."
Montreal, Canada (PRWEB) January 20, 2012
Vortex Aquatic Structures International is pleased to announce the creation of a second local office in the U.S. This full service Sales and Support office will serve the Midwestern states of Michigan, Indiana and Ohio. Vortex Midwest, based in Michigan, will be lead by Cory Anderson, bringing with him over 12 years of experience in the playground and Splashpad® business. Formerly with Miracle of Michigan and Indiana, a playground equipment distributor, Cory has worked closely with Vortex and helped to steadily grow the business for over 8 years. In his new role, Cory will oversee Vortex's business in the Midwest.
"Having been a manufacturer representative for over 12 years, no other company I have been involved with has shown the growth that Vortex has." said Cory. "Vortex is never complacent as the industry leader in aquatic play and is always pushing innovation, all the while, not compromising in unparalleled quality. With the high demand for Vortex products, it is imperative to have a local presence in which to offer design expertise and customer service. The Midwest office will have a certified Vortex installer and field technician to ensure each project is a success for every community." He adds, "This is an exciting time for Vortex and I am honored to accept this new role."
Stephen Hamelin, President, Vortex Aquatic Structures International says, "The addition of this new regional operation is a reflection of our continued commitment to providing our customers with the service level and product expertise they require. Cory has managed over 100 Vortex projects from conception through to completion, affording him with in-depth knowledge of all aspects of aquatic play solutions. Cory's commitment to excellence and customer satisfaction aligns with Vortex's values, making this partnership a win for our customers."
About Vortex Aquatic Structures International:
Vortex Aquatic Structures International was established in 1995. With over 4,500 installations worldwide and a global distribution network, Vortex is well positioned as an industry leader in aquatic play. Vortex offers inspiring designs, state-of-the-art engineering, water conservation solutions and the highest quality materials. The company remains committed to its mission of developing fun, safe and reliable products for families and children of all ages and abilities.
For more information on Vortex Splashpad®, Poolplay™ and Spraypoint™ solutions, please visit the company's website at vortex-intl.com or contact 1.877.586.7839.
###