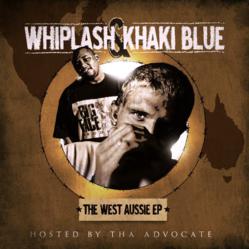 Miami, FL (PRWEB) January 20, 2012
Hip hop artist Whiplash recently released his mixtape with Khaki Blue, "The West Aussie EP." Coast 2 Coast presents the project, which is hosted by Tha Advocate. It is now available for free download. "The West Aussie EP" features Whiplash and Khaki Blue on tracks with guest artist appearances from J-Flow and I-10.
Whiplash is rising from down under to unleash his lyrical prowess on the States. Fiery but calculated in his flow, Whiplash methodically attacks each and every track much like a veteran boxer punishes a novice opponent in the ring. Years of nomadic living have given Whiplash a plethora of experience and content for his music. Eking out a living and sleeping everywhere from fields to campgrounds, to couches to beaches, and even on the roof of a café, Whiplash knows what it's like to come from nothing. Starting from the bottom has cultivated an appreciation for the underdog and gives his music a unique perspective. He embraces his drifter status and uses music as an outlet to release his pent up feelings about the cold world he's encountered. After a lucky occurrence, Whiplash met a high-ranking music representative and was able to record his first song in a professional studio. This experience led to an obsession with making new music and Whiplash started recording his own songs. After two short years and over 100 tracks, he was featured in Cosmopolitan and ranked 6 out of 35 up-and-coming artists in the magazine's "Cool List."
There's a certain pedigree expected of rappers from the heart of Los Angeles—you either represent it right or you get rode on. For up and coming rapper Khaki Blue, his emergence as one of South Central's next top MCs is a challenge he's more than ready to face. Khaki Blue's confidence when it comes to rap is a product of his upbringing, which threw enough adversity his way to teach him his strengths both in and out of the booth. He has had to overcome the obstacles attached to living in the gang-infested LA streets, including the death of his brother and friends. He became focused on establishing himself as a force in the music industry in order to provide for his family. His dedication and skill have earned him appearances on a variety of projects with some of California's brightest stars and he continues to rapidly move his career forward.
"The West Aussie EP" is available for free streaming and download at http://coast2coastmixtapes.com/mixtapes/mixtapedetail.aspx/whiplash-the-west-aussie-ep
###