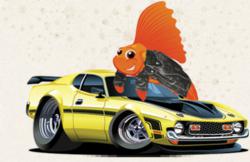 Women in MMA is empowering not to mention hot! We need to get more attention to women's sports in general.
Hollywood, CA (PRWEB) January 19, 2012
RoadFish.com men's lifestyle and finance magazine comments on the recent news of Cristiane "Cyborg" Santos' use of steroids. The California State Athletic Commission suspended Cyborg on Friday. This comes at the same time Gina Carano's new movie Haywire is released. Haywire opens in theaters on January 20, 2012. The star of the movie is Gina Carano known as the "Face of Women's MMA". Gina is most famous for her career in Women's Mixed Martial Arts with a record of 8 to 1. Haywire is her first film where she has been cast as the lead. Gina plays a covert ops specialist that learns she has been betrayed and is on a mission for payback.
James Begley of jbstaredownmma.com is quoted as saying, "I noticed that in a recent interview with Gina, that when the subject of her return to competition was raised, she simply stated that she was going to give back everything that this film project has given to her, and that it may be a couple of months before any serious discussion of her returning to MMA would be addressed."
Gina Carano's last fight was in 2009 against Cris Cyborg where Gina suffered her only MMA loss. Now that Cyborg's accomplishments have been questioned due to the recent findings of her steroid use, the Strikeforce Women's Middleweight Championship Title may be up for grabs.
Gina's new notoriety may give way to some influence over the Women's MMA world. In a recent interview with with Bas Rutten Gina is quoted as saying, "You know what, to be honest, I would love to get women on a superfight on the UFC. I think that's like as ridiculous as maybe that sounds to other people, I think that why not? Why not show a super fight between two females that people really want to see. Let's break some ground here."
The editor of RoadFish.com stated, "Women in MMA is empowering not to mention hot! We need to get more attention to women's sports in general. It would be incredible if Gina came back to MMA and could help to get more exposure for those up and coming Strikeforce fighters out there like Liz Carmouche. It is unfortunate to hear about Cris Cyborg and her use of steroids. I understand she had a lot of fans that now question the legitimacy of her other fights. To take performance enhancing drugs is a disservice to the fighter, misleads fans, and damages the credibility of the sport. Cyborg should be ashamed."
About RoadFish.com
RoadFish.com is an online Men's magazine targeted toward men in their 30's and 40's that have already attained a moderate level of success in life, and are striving toward more. It goes over current events of interest to this group, such things as exciting adventures, consumer interests, health, as well as ways to make more and save more money. It is a publication owned by Purpose Inc.
###