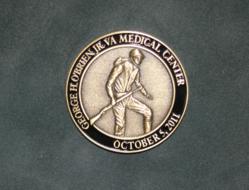 We're excited that this has become a reality and we will be honored to recognize such a distinguished veteran who was raised in the Big Spring community.
Provo, UT (PRWEB) January 21, 2012
The Department of Veterans Affairs Medical Center in Big Spring, Texas was renamed the George H. O'Brien, Jr. Department of Veterans Affairs, due to the provisions of the Veterans Health Care Facilities Capital Improvement Act passed by President Obama in October of 2011
George O'Brien, the person to whom the newly renamed hospital is dedicated, was raised in Big Spring, Texas and was a private in the US Marine Corps Reserve until he was called to active duty in 1951. Later O'Brien became the city of Big Spring's only Medal of Honor recipient directly for his courageous actions while fighting in the Vietnam War.
The rededication ceremony was held Wednesday afternoon. Members who attended the ceremony received a memorial coin with the words, "George O'Brien, Jr. VA Medical Center" written on it as well as a picture of George O'Brien in combat gear. The coins were created by Big Statues, a bronze sculpting company known nationwide for life-size sculptures, reliefs and custom plaques.
Iva Jo Hanslik, the public affairs officer at VAMC said, "We're excited that this has become a reality and we will be honored to recognize such a distinguished veteran who was raised in the Big Spring community."
Big Statues is more than honored to work with the wonderful people in the Big Spring community and is honored to be able to create a little piece of artwork that will represent this large historical event for generations to come. Matt Glenn, sculpture at Big Statues said, "It is so great to know that everything we do at Big Statues helps others show appreciation for selfless acts of service."
For more information about Big Statues, and the custom bronze sculptures of Matt Glenn, visit http://www.bigStatues.com
###