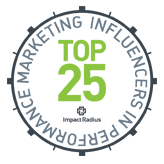 Los Angeles, CA (PRWEB) January 20, 2012
Peter Bordes, Founder and Executive Chairman of MediaTrust—a leading digital performance-marketing firm based in New York and Los Angeles—has been identified as one of the most influential people in the performance marketing industry by Impact Radius. Peter Bordes has been ranked 8th on the 25 Most Influential People in Performance Marketing List, which catalogs the top influencers, leaders, and motivators of the industry. Impact Radius compiled the list to serve as a guideline for advertisers, agencies and media companies seeking expert advice and insights on ways to improve their performance marketing revenue.
"Receiving this recognition as one of the most influential people in performance marketing is a great honor," said Peter Bordes, Founder and Executive Chairman of the Board of MediaTrust. "I have only my colleagues to thank for the inspiration, the opportunity to lead, and for believing in my vision and passion for the performance marketing industry and its future. This is an innovative and thriving industry that is only as successful and inspiring as the people in it. Thank you to everyone who inspires me on a daily basis, and makes this industry as exciting and rewarding as it is."
The performance marketing technology provider created the list based upon their independent analysis of the influence of more than 400 prominent performance marketing thought leaders, using the influence scoring methodology of Business Insider author, Mark Fidelman. The individuals calculated as having the most influence—meaning the ability to drive action and engagement—were first scored for online influence using Feldman's weighted average formula. Individuals were then compared to one another to create the top 25 ranking.Other individuals listed as the most influential include: Brian Clark, Shawn Collins, Jeremy Schoemaker, John Chow, Brett Tabke, Rae Hoffman-Dolan, Missy Ward, Pace Latin, Murray Newlands, and Angel Djambazov.
To see the full list of Impact Radius's 25 Most Influential People in Performance Marketing, click here.
About MediaTrust and the MediaTrust PerformanceExchange
MediaTrust enables its partners to easily create and deploy pay-for-performance marketing campaigns that deliver clicks, leads and sales, via the MediaTrust PerformanceExchange (MTPX). MTPX is a real-time CPC bid exchange for performance marketing. Working with industry-leading advertisers, MTPX yields profitable results for lead generation and direct response advertisers looking to increase business. With the success of the PerformanceExchange within the EDU vertical credited to its quality traffic, compliance, and customer-centric Partner Management team, MTPX is quickly extending its reach into many new marketing verticals such as: Insurance, Finance, and Senior Lifestyle.
For the second consecutive year, MediaTrust has been named to Lead411's Tech 200 List. Founded in 2004, MediaTrust is headquartered in Los Angeles, with offices in New York City.
For more information on MediaTrust's PerformanceExchange, please visit: http://www.mediatrust.com, or follow the company blog: blog.mediatrust.com. MediaTrust news and updates can also be found on Twitter (http://www.twitter.com/mediatrust) and Facebook (http://www.facebook.com/mediatrust).
###