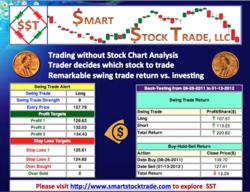 It's better than investing for small returns or big losses. Swing trading has ample opportunities for high return.
Austin, TX (PRWEB) January 25, 2012
Smart Stock Trade is a newly invented stock trading software, which will assist novice and experienced traders to trade US stocks without spending time studying stock fundamentals or technical indicators to earn extra income. It has a fully automated built-in algorithm, which is efficient to generate accurate stock alerts, and removes time-consuming manuals and complicated stock chart analysis processes.
Smart Stock Trade operates based on daily stock prices instead of real-time quotes. It generates a simple swing trade alert, either long or short with pre-determined entry price, strength, profit and stop loss targets for a stock interested by a trader. It also predicts overbought and oversold conditions to alert the trader for trend reversal and how to react wisely if a trade is not executed as expected. Smart Stock Trade generates back-tested data that proves a remarkable swing trade return over investing.
Traders can utilize the Smart Stock Trade report to buy and sell in their own trading platform. It doesn't recommend stocks or execute the trades for them. The trader has to decide which stock to trade and will be charged based on pay-per-stock. Traders can visit Smart Stock Trade as many times as they want to get trade alerts and will be charged according to the pay-per-stock. There is no monthly subscription or limits for the number of stock alerts. Video and complete guides are provided in the website for traders to familiarize themselves with the Smart Stock Trade software.
"It's better than investing for small returns or big losses. Swing trading has ample opportunities for high return," said Jayabalan Kundan, Founder of Smart Stock Trade.
Smart Stock Trade will be truly a non-emotional trade guide to initiate swing trade with pre-determined entry prices, profits and stop loss targets. Traders need to be smart in order to trade stocks in the wild swinging and uncertain stock market. For more information about Smart Stock Trade visit http://www.smartstocktrade.com or follow us at http://www.facebook.com/SmartStockTrade or http://www.twitter.com/SStockTrade.
About Smart Stock Trade
Smart Stock Trade LLC (http://www.smartstocktrade.com) is a Texas limited liability company and established in October 2011. Users will access the website by inputting a registered user name and password and will be able to either register as a new user or sign-in as an existing user. Users will have the option to select from several services on the welcome page, including Stock Symbol Lookup and Stock Price Calculator, which are free services, and Stock Long Short Calculator as a member service that will be charged based on pay-per-stock. The information on the website will only be available for publicly traded securities (especially stock) listed on US national exchanges.
Contact
Jayabalan Kundan
Founder of Smart Stock Trade, LLC
512-695-1615 (mobile)
jayabalan(at)smartstocktrade(dot)com
# # #