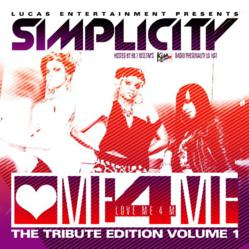 Miami, FL (PRWEB) January 21, 2012
R&B/hip hop group Simplicity recently released their mixtape "Love Me 4 Me: The Tribute Edition Vol. 1." Coast 2 Coast Mixtapes and Lucas Entertainment present the project, which is hosted by 98.7 Kiss FM's Lil Nat. It is now available for free download. "Love Me 4 Me" features Simplicity on original and covered tracks, with guest artist appearances from JMurda and Fred The Godson. Production credits include Mark Wilson and Jeff Lucas.
Simplicity group members have been singing since they were five years old. The trio consists of the twins, Star and Sha'tarr, both 18 years old and Tasia who is 17 years old.
The three sisters are from Brooklyn, NY where they call the Coney Island section their home. Their mixture of R&B with a touch of hip hop blends smoothly with their gospel background. Most would agree that their sound is timeless.
Starr, Sha-Tarr, and Tasia are inspired by all the young artists of today and have been influenced by the Supremes, Aretha Franklin, Patty LaBelle, Destiny's Child, Mary J. Blige and Mariah Carey, just to name a few—and of course their father who has always been a major part of their career and their biggest fan. These ladies match industry standards because they are very experienced. They're presently performing in various venues and stage shows through out New York City, South Carolina, and Texas. Simplicity has also appeared at the Apollo several times, A&R Power Summits, Madison Square Garden, and won Best Female R&B at the Underground Music Awards two years in a row—just to name a few of their achievements over the years.
"Love Me 4 Me: The Tribute Edition Vol. 1" is available for free streaming and download at http://coast2coastmixtapes.com/mixtapes/mixtapedetail.aspx/simplicity-love-me-4-me-the-tribute-edition-volume-1-hosted-by-lil-nat
###