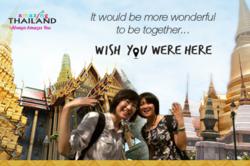 It would be more wonderful to be together...
(PRWEB) January 21, 2012
TAT, this year, is managing to draw more tourists to the country through the video series 'Wish You Were Here', which will be spread through social networks and the world's most visited video web Youtube.com. The videos will feature foreign tourists in many interesting destinations saying 'Wish You Were Here'. There are three videos scheduled to be released, including Bangkok, Ayutthaya, and Pattaya. Keep up with the latest information and updates from the Tourism Authority of Thailand at http://www.facebook.com/amazingthailand or follow the video series updates at http://www.youtube.com/tourismthailand.
###