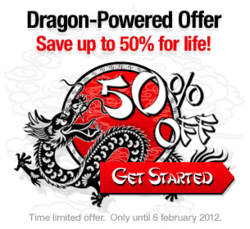 Discount prices start from just $8, with savings up to 50% for the life of your account.
Wilmington, DE (PRWEB) January 24, 2012
Implix, leading provider of results-driven online marketing and industry-leading conferencing solutions for the SMB sector, sounded the gong announcing the official start of its Year of the Dragon Promotion, with discounts of up to 50% for the life of the account. Whether a new, existing or free account customer, everyone gets Dragon-sized Discounts of up to 50% on feature-rich, time and money-saving ClickMeeting and ClickWebinar Packages through midnight February 6. With more 850,000 global users, ClickMeeting wants 2012 to be the year when every business – no matter how big or prosperous – can reap the benefits of online collaboration, sales and training presentations, and quick and easy client and team meetings – all without spending a dime on travel.
"The Year of the Dragon is about being bold, taking hold of your destiny and making it happen. That's why I'm so excited to offer these huge discounts on our top-notch ClickMeeting services, ranked third in our market…and climbing.", said Simon Grabowski, Implix CEO and founder of ClickMeeting. "The feature-packed conferencing packages include all the bells and whistles you'll need: rebranding, record, whiteboard, polling and surveys, simultaneous chat translation and much more! And our Dragon Discount prices start from just $8, with savings up to 50% for the life of your account. But we can only offer this level of savings for a limited time, so I encourage every user to "breathe some fire" into your business with the easiest, most reliable online conferencing tools under the sun. And a Happy Year of the Dragon to all from ClickWebinar!"
For information about the ClickMeeting features and benefits, go to http://www.clickmeeting.com/.
About Implix
Implix is focused on delivering affordable, feature-rich, self-service online marketing solutions that help small and medium business around the globe improve efficiency, reduce costs and increase profitability. Implix offers the innovation-leading GetResponse email marketing platform and best-in-class ClickMeeting web conferencing, supported by an international team of customer service experts. Founded in 1999, the company maintains offices in the United States, Canada and Europe.
About ClickMeeting
The ClickMeeting online conferencing platform offers a cost-effective, audio-visual alternative to "being there". Easy to set up from any browser or platform, ClickMeeting and ClickWebinar solutions help businesses enter new markets and close more deals – virtually. Users can deliver video presentations and demos, or video chat using up to 4 streams – without spending a dime on travel. Teams can share desktops, documents and applications and control the interaction to boost productivity. Every event is supported by the nearest ClickMeeting high-availability server, ensuring quality and reliability 24/7. Whether a casual user or global company, ClickMeeting all-in-one packages offer rich conferencing options for less.
# # #