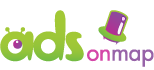 Free Classifieds Ads for Web Surfers Anywhere in the World
(PRWEB) January 26, 2012
The popularity of online ads has recently overshadowed traditional marketing mediums such as television and newspaper. Since most professional and home users opt to go online to find information, it is more feasible for companies to place ads online. While the internet has been available as a marketing media since a very long time, the recent surge in its popularity is due to location based advertisement.
Making the best use of location based advertisements, AdsOnMap (http://www.adsonmap.com) has introduced a revolutionary service that will allow postings to be made on Google maps. This free classified ads service will allow businesses to efficiently target their potential customer base while offering more relevant information to prospects and customers.
Expressing his excitement over the launch of these unique services, founder of the website Ang Ze Jin said, "Global outreach is one of the hallmarks of the internet marketing, but it loses a huge part of its capability and efficiency for local businesses. Moreover, a plethora of irrelevant ads can get really annoying for customers that are looking for a certain service nearby their location. With adsonmap.com we are eliminating trouble for both of them."
Along with this fairly unique location based service, the website also offers free marketing for products and services. Mr. Ang further stated that their location based free classified advertising services are also expected to benefit small businesses and event organizers. With their location based classified ads, it would become easier to let the residents of a specific area know about the events held near their location.
The website is expected to be an excellent internet advertising and marketing medium for local businesses such as retail stores and restaurants. It will also allow businesses to post job opportunities and advertise them to the targeted audience. With more relevant search results, users will start to rely more on the internet than on any other media. "It is really annoying to see the search listing of a restaurant in a city far away when you are sitting in LA. This is the reason why a few people simply don't trust the internet at all," Mr. Ang added.
Adsonmap.com is also expected to enhance the user experience for web surfers and users looking for a specific product/service provider. With numerous different categories listed in a well organized manner, the website truly presents an example of how other classified ad sites must evolve. It offers a better user experience and more efficient marketing. A complete list of categories can be viewed at the advertising directory section of the website.
About Adsonmap.com
AdsOnMap (http://www.adsonmap.com) is a website for location based online advertisement and marketing services. The website was developed and founded by Ang Ze Jin. It brings forward a new and unique concept of location based advertisement by allowing businesses to post on Google maps. It is available as a free to use website for both businesses and individuals. For contact, please use the following details.
Contact Details:
Web: http://www.adsonmap.com
Email: enquiry(at)adsonmap(dot)com
# # #