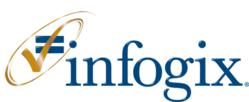 Naperville, IL (PRWEB) January 20, 2012
Infogix, Inc., a leading provider of information governance and business operations management solutions today announces the availability of Infogix Nexix™ 1.0. Infogix Nexix provides the capability to personalize and combine business operations processes and the Infogix Solutions.
"Managing and improving the performance of business operations is critical and we've found that there is growing recognition of this in the market. Infogix provides solutions that help businesses achieve the goal of gaining full insight into their operations to drive improvements in performance," said Bobby Koritala, Group Leader of Product Development.
"Our customers are eager to have the ability to get a personalized view into their business operations. Each individual has specific goals and ways to measure, but our customers often have to go to disparate systems to retrieve this information," said Andrew Hilgart, Visualization Product Manager. "The features of Infogix Nexix when combined with the other Infogix solutions make end-to-end business operations management easier, quicker and more flexible than ever before. Infogix already captures the necessary information, and Infogix Nexix now provides an easy way to display it."
Infogix Nexix 1.0 is designed to enhance the business operations process with personalized Roles and views, a unique Process Modeler, Business Reports and Report List, Control Monitoring and Trending Views, and External URLs and RSS feeds
Infogix Nexix gives you the ability to customize every users personal view and show them their personalized data set. Depending on the type of user that may have access to a control panel, each user will have their own content. A business process owner may want to see a specific list of reports. For example, IT may want to view a system diagram flow, or a status update and Management may view a high-level month end report.
Within Nexix, the Proccess Modeler allows users to expand the context of their controls infrastructure to the end-to-end process. It provides a palette of tools that allows dragging and dropping nodes and controls onto a blank canvas. As controls are attached, the ability to drill into control results in view mode is automatically activated. Set up a process hierarchy, which allows securing of various processes to certain individuals and managed views.
Infogix Nexix provides the capability to view all of business reports and report lists from Infogix Perceive. This feature allows customized reports, based on user roles and security and will present the most current data available.
Control Monitoring and Trending Views allow users to monitor all of your Infogix Insight controls and trends, providing all of control data important to designated roles. These controls can be monitored in comparison with all other pertinent data.
Infogix Nexix allows pulling in and viewing external URLs and RSS feeds important to the business from outside of the Infogix Solution. Access from up-to-date feeds and external systems helping business operations run as efficiently as possible.
Infogix Nexix 1.0 is available now. For additional information please visit: http://www.infogix.com/pages/products/infogix_nexix.aspx
About Infogix, Inc.
Many of the world's largest enterprises depend on Infogix Controls to eliminate information errors. Infogix Controls are independent, automated and continuous. They can be deployed enterprise-wide across applications, platforms, and business processes. Infogix offers a powerful portfolio of software products and services to monitor, detect, and prevent information errors. Since 1982, Infogix has been providing Infogix Controls solutions to Global 2000 enterprises. Millions of Infogix Controls continuously monitor and assure the integrity of information in hundreds of enterprises everyday. For more information, call +1.630.649.6800 (U.S, Canada, and International), +44 (0)175.370.1060 (UK and Europe), or visit http://www.infogix.com.
###