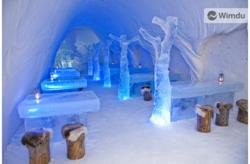 London, UK (PRWEB UK) 23 January 2012
In the midst of our annual migration to the slopes, non-skiiers and slope haters are often left behind without a winter holiday to ease the January blues.
Fear no more, because Wimdu.co.uk has found the perfect alternative winter escapes. For those shying away from the mountains, an overnight stay in an 18 room Finnish ice castle will cost just £229 per night per couple. But if mountains are your thing, an igloo on top of a Mount Zugspitze, Germany offers stunning views of four different countries for just £166 per night per couple. Once a lifetime destinations at once a year prices.
Ice Castle, Finland: http://www.wimdu.co.uk/offers/6QTFAP7U
For winter lovers who want to experience something completely different, this huge Ice Castle in Finland which takes 5 weeks each winter to construct is a firm favourite of children and adults alike.
The castle is constructed completely from sea water ice and has 18 rooms, including two group rooms with five beds, and an indoor temperature of -5 degrees Celsius. The luxurious furs and thermal bedding protect you against the cold and guarantee an unforgettable night.
Igloo on top of Mount Zugspitze, Germany: http://www.wimdu.co.uk/offers/BIWSSZH3
The igloo village on Mount Zugspitze has become a cult destination in the four years since it opened. It is housed on the peak of Germany's highest mountain and features a Jacuzzi and whirlpool area.
Each igloo has been uniquely designed by international artists and the plush fur surroundings create the most romantic getaway during the winter months.
# # #