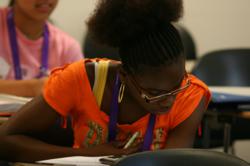 Evanston, IL (PRWEB) January 21, 2012
Tammie Stewart, Manager of Community Outreach at the Center for Talent Development at Northwestern University, will be in Indiana January 22 through 24 meeting with parents and educators about addressing the needs of gifted students.
High achievers hit the ceiling on standardized, grade-level tests. They require a more advanced test, one designed for a higher grade level, to gain a true measure of where they are performing and what they need moving forward. Knowing what a child is capable of doing means teachers can differentiate and tailor instruction to meet the student's needs. Learn more at upcoming educational forums for parents and educators.
Forums on Tuesday, January 24
Kenosis Counseling Center, Inc.
11:30 a.m. - 1 p.m. - Luncheon Presentation 1678 Fry Road, Ste D Greenwood, IN 46142 RSVP: 317 / 865-1674 or e-mail christine(at)kenosiscenter(dot)com (lunch is at no cost to participants)
Traders Point Christian Academy (TPCA)
4:30 p.m. - 6 p.m.
Media Center , 6600 S. Indianapolis Rd, Indianapolis, IN
317/ 769-2450
Sidener Academy for High Ability Students
6:30 p.m.
Media Room, 2424 Kessler Blvd. East Drive, Indianapolis, IN
317 / 226 - 4259
Attending the Indiana Association for Gifted Conference?
Visit Tammie at the event held at the Indianapolis Marriott Downtown
Sunday, January 22
5 p.m. - 7 p.m. Educator conference. Visit Tammie at Booth #2
Monday, January 23
6 a.m. - 4 p.m. Educator conference. Visit Tammie at Booth #2
7 p.m. - 9 p.m. at Booth #2 for Parent Night/ Open to the Public/ Free Admission
Center for Talent Development (CTD) provides a variety of programs and services for academically gifted students, their parents and educators. CTD is part of the School of Education and Social Policy at Northwestern University. It is led by nationally recognized scholar Dr. Paula Olszewski-Kubilius and has served over 500,000 since its establishment in 1982.
###