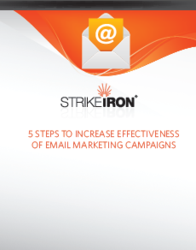 Cary, NC (PRWEB) January 22, 2012
Deliverability, content, and optimization are critical for email marketing, according to a new whitepaper from StrikeIron. Email marketing has revolutionized business due to its ability to generate new sales, retain existing clientele, and strengthen the customer relationship.
Email has emerged as a valuable channel to improve brand awareness and enhance relationships with both new and existing customers. StrikeIron's whitepaper "5 Steps to Increase Effectiveness of Email Marketing Campaigns" explains proven tips and tactics to take your email campaigns to the next level. It discusses how to increase the likelihood of reaching the inbox, as well as how to drive revenue and real results.
For a copy of the whitepaper, go to http://offers.strikeiron.com/email-whitepaper/.
About StrikeIron:
StrikeIron is the leader in Data-as-a-Service (DaaS), delivering data quality and communications solutions via our cloud platform IronCloud. We provide address verification, email verification, phone validation, phone append, SMS text messaging, and sales tax solutions to customers in a variety of markets. Our solutions are delivered as Web services that can be easily integrated into any application or system. Additionally, our solutions are pre-integrated into leading platforms like: Magento, Eloqua, Salesforce.com, Informatica, Oracle CRM On-Demand and more. Visit us on the web at http://www.strikeiron.com.
# # #