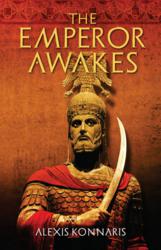 BRISTOL, UK (PRWEB UK) 23 January 2012
In the historical novel "The Emperor Awakes" (ISBN 1466287438), Alexis Konnaris takes on the topic of the last Byzantine Emperor, a topic he says hasn't been touched in a work of fiction before now. Konnaris documents the legend of the last Byzantine Emperor who, after the fall of Constantinople to the Ottomans in A.D. 1453, was supposed to be frozen and then woken to take back Constantinople.
Konnaris takes his readers on a journey through history in his thrilling adventure as his characters try to figure out the mystery surrounding the fate of the last Byzantine Emperor and his young heir. A child is kidnapped from the Palace of Vlachernae in Constantinople a few weeks before its fall to Sultan Mehmed II. However, no one knows what became of the Emperor or the child. Five hundred and fifty years later, archaeologist Giorgos Markantaskis leads an expedition in Cappadocia in Turkey where he finds evidence of the tragic story.
Here begins the trip of a lifetime as Giorgos launches a chase for the lost tomb of the last Byzantine Emperor. On his journey, he finds that there are others also looking for the tomb but for a completely different reason as rumours spread about something extremely powerful in the tomb. Now the race is on to see who will get there first and discover what lies in the unknown.
Konnaris keeps readers hooked on this rollercoaster ride of a novel that also educates readers on the topics of Cyprus, Greece, Turkey, Constantinople, ancient history and much more. He believes readers of all ages will enjoy this historical thriller that takes them to the third century B.C. via the 15th and early 20th centuries A.D. and back again to the present day.
"The Emperor Awakes" is available for sale online at Amazon.com, in e-book format and other channels.
About the Author:
Alexis Konnaris is a graduate of Magdalene College, University of Cambridge. He grew up in Cyprus and worked as a lawyer for several years in Cyprus and in England. This is his first book.
REVIEW COPIES AND INTERVIEWS AVAILABLE
The views and opinions expressed in this press release do not necessarily represent the views and opinions of CreateSpace or its affiliates.
###