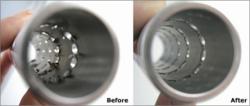 Los Angeles, CA (PRWEB) January 26, 2012
The Flex-Hone Tool from Brush Research Manufacturing is an easy-to-use, cost-effective solution for cross hole deburring.
Cross hole deburring removes metal burrs from cross-drilled holes and leaves a smooth, clean, radiused intersection. Burrs are ridges of cut, torn, jagged, or folded metal that can cause part misalignments, affect dimensional tolerances, and limit the overall efficiency of machined components. In the case of cross-drilled holes, burrs may block the flow of cooling fluids, lubricants, and gases.
Burrs and sharp edges are created when metal blanks are machined into specific shapes and sizes. Ragged edges and areas of roughness are also produced when metal parts are welded, molded, cast, trimmed, slit or sheared.
Since burrs occur on seams as well as edges, a deburring tool is used to improve surface finish so that the metal is uniformly smooth. Burrs at the intersection of holes present a special challenge since the deburring tool must smooth edges and produce a blended radius. With its unique construction, the Flex-Hone® Tool is ideal for cross-hole deburring either during machine tool applications (on-line) or as a secondary operation (off-line).
The Flex-Hone Tool is a resilient, flexible hone with a soft cutting action. The abrasive globules are bonded to the ends of flexible nylon filaments. Each has independent suspension that assures the cylinder hone to be self-centering, self-aligning to the bore and self-compensating for wear. As a result, rigid, elaborate setups are not required.
For best results, use the deburring tool in the main bore into which the cross-holes break. Rotate and stroke the flexible hone a few strokes in a clockwise direction, and then remove the tool from the part. Next, reverse the spindle and rotate and stroke the flexible hone in a counterclockwise direction for a few more strokes.
This forward and reverse rotation creates a symmetrical deburring pattern. When using the honing tool in either direction, lubricate generously with oil to keep metal cuttings and deburred metal in suspension
Available in sizes ranging from very small diameter hones (4mm) to those up to 36 inches or more in diameter (a size appropriate for large engine cylinder bores), these deburring tools can be custom designed by Brush Research to the size, shape and abrasive grit to fit any application's needs.
###