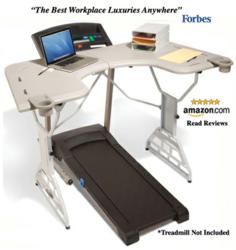 A whole lot of bad things happen when you sit all day, like heart disease, stroke and cancer.
Los Angeles, CA (PRWEB) January 20, 2012
ABC News reported yesterday on two innovations that are making schools and workplaces healthier: Instant Recess and the TrekDesk Treadmill Desk. Dr. Antronette Yancey of UCLA's School of Public Health and author of " Instant Recess: Building a Fit Nation 10 Minutes at a Time" urged employers and educators to allow at least 10 minutes of activity while walking on her TrekDesk Treadmill Desk.
Dr. Yancey cited the importance of movement during the ABC interview. "A whole lot of bad things happen when you sit all day, like heart disease, stroke and cancer." Only 5% of Americans achieve 30 minutes of exercise during the work week according to the CDC, and in Los Angeles county the numbers are even more alarming. "About 40% of the county doesn't even get 10 minutes per week of continuous activity. Really, there's almost no organ system that regular physical activity can't improve," stated Dr. Yancey.
"Dr. Yancey, who sits on the board of Michele Obama's "Let's Move" campaign, is one of the leaders in a Movement Revolution designed to wake up America to the hazards of a sedentary lifestyle," stated Steve Bordley, CEO of TrekDesk Treadmill Desks. "We share that same mission and hope more Americans join our movement on Facebook at http://www.facebook.com/trekdesk."
Designed to fit any existing treadmill, TrekDesk treadmill desk is an affordable, full sized, height adjustable workstation that allows individuals the opportunity to gain the necessary amount of exercise daily to maintain health, prevent disease, strengthen muscles, boost mood and productivity, without requiring additional time during the day or extra motivation. Workout at work with TrekDesk. No sweat!
TrekDesk is currently available for sale online at Amazon.com for $479.00 including free shipping. To order the "Instant Recess DVDs and materials, visit Journeyworks.com or Amazon.com. To watch the entire interview please visit ABC at http://abclocal.go.com/kabc/story?section=news/food_coach&id=8511805
Join the TrekDesk "Movement Revolution" to learn more, win a free TrekDesk or ask us any questions anytime at http://www.facebook.com/trekdesk, or follow us on twitter -http://www.twitter.com/trekdesk.
###