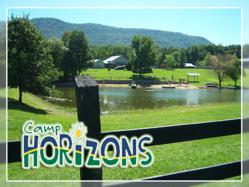 (PRWEB) January 28, 2012
Camp Horizons, a coed, overnight summer camp for children ages 6-17, is celebrating 30 years of great camp fun this summer. Camp Horizons, located near Harrisonburg, VA, on 300 acres along the Massanutten Mountain, was started in 1983. Back then, Camp Horizons encompassed around 100 acres and had limited facilities and programs. Today, Camp Horizons has expanded both in size and in programming options. The camp offers traditional summer camp activities, such as swimming, canoeing, kayaking, sports, arts & crafts, performing arts, nature, outdoor adventure, horseback riding and archery. Additionally, Camp Horizons offers specialty equestrian and adventure camps, and partners with the non-profit Horizons Learning Foundation and the international Up with People to offer Camp Up with People, a three-week performing arts camp for ages 14-17, that attracts teens from around the world. Camp Horizons offers six camp sessions throughout the summer.
Camp Horizons Director and Founder John Hall's contagious enthusiasm and love of camps, the outdoors and children serve as the foundation of the Camp Horizons philosophy of blending challenging and fun activities with a supportive camp community to create a home away from home for campers. "Our goal is offer campers a safe, secure environment in which they can learn new things, try new activities, develop friendships that will last a lifetime, and bolster their self-confidence and independence," Hall said. "We strive to create an extended camp family and a home away from home for all children who come to Camp Horizons."
Camp Horizons staff members come from across the nation and around the world, offering youngsters the opportunity to learn more about different cultures, languages, customs and environments.
Additionally, Camp Horizons, had incorporated a strong "green" component to its programming and operation, offering nature classes that examine the area's ecology and promote environmental awareness, a camp-wide recycling program, on-site generation of solar and wind energy to provide electricity for camp vehicles, and production of biodiesel fuel used to operate the camp's fleet of buses and trucks.
In addition to special 30th anniversary camp activities throughout the summer, Camp Horizons is planning a 30-Year Staff Reunion on Labor Day weekend 2012. The no-cost, fun-filled weekend, open to staff alumni of Camp Horizons, will feature plenty of pictures and memorabilia that track Camp Horizons from its humble beginnings in 1983 to the premier summer camp program it is today.
Follow us:
Facebook
Blog
Twitter
# # #