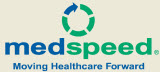 Elmhurst, IL (PRWEB) January 24, 2012
UPMC, a $9 billion integrated global health enterprise, faced a challenge similar to that of many large health systems. Areas of their supply chain operations were uncoordinated and more expensive than they needed to be. To consolidate non-healthcare core competencies of facilities, mail and transportation, UPMC entered into an enterprise-wide collaborative partnership with Océ Business services, a Canon Group company and leading international provider of document process outsourcing services and technology to healthcare enterprises, and MedSpeed, an HFMA peer-reviewed partner that strengthens supply chain and overall business operations through centralized healthcare transportation networks.
This month at the World Congress 6th Annual Leadership Summit on Health Care Supply Chain Management in Orlando, FL, MedSpeed's CEO, Jake Crampton, and UPMC's assistant director, non-clinical strategic sourcing, Mike Figliolia, will discuss their creative seven-year partnership and how it has produced added value and savings within purchased services. Crampton and Figliolia will present at the summit on January 31, 2012 at 2:00 PM.
As healthcare reform gains momentum, supply chain leaders are increasingly asked to assume responsibility for purchasing decisions that enable a higher quality of care and generate efficiency. During this interactive presentation, UPMC will discuss how it leverages strategic collaborative partnerships to achieve high quality, non-core operations that support its standard of care and generate cost savings.
The Leadership Summit on Healthcare Supply Chain Management (January 30 – February 1, 2012) will feature thought-provoking panels and case studies. Industry leaders will discuss transforming their supply chain departments into centralized systems with a strategic, collaborative and innovative focus to accomplish the overall business and clinical goals of the organization.
About World Congress Leadership Summits
The World Congress Leadership Summit Series addresses the most cutting-edge issues for health care executives across a wide range of industry sectors. Designed to expand on topics discussed at invitation-only summits during the World Health Care Congress, this series offers new perspectives on established methodologies and details solutions to foster innovation and change. For more information, please visit http://www.worldcongress.com/leadership.
About Océ Business Services
Océ Business Services provides high quality managed services and technology to manage, monitor and optimize document intensive processes so companies can improve operating efficiency and performance. Océ Business Services solutions span the document lifecycle and include records management, imaging, managed print services, mail and eDiscovery. Proprietary methodologies apply Six Sigma®. North American headquarters are in New York City and employment is about 5,000. Learn more at http://www.ocesolutions.com or follow us on Twitter.
About MedSpeed
Every patient interaction, from a routine clinic visit to an urgent blood transfusion, relies in some way on the same-day pickup and delivery of a specimen, pharmaceutical, radiology film, blood product, medical record or supply. MedSpeed is an ISO-certified, technology-enhanced healthcare transportation solutions provider that strengthens supply chain and overall business operations through centralized transportation networks. MedSpeed has also been granted the "Peer Reviewed by HFMA®" designation, a rigorous eleven-step objective third party evaluation of products and services conducted by the Healthcare Financial Management Association (HFMA). For more than eleven years, MedSpeed's Lean Six Sigma approach to transportation design and execution has transformed transportation into globally-optimized, leverageble logistical frameworks that consistently deliver operational quality, economic value and strategic advantage.
###