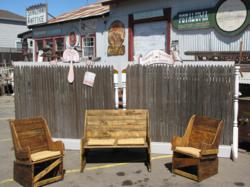 We are honored to have provided reclaimed wood for this important movie, and to recycle the old wood again into additional products that will benefit Petaluma Bounty. Bug Deakin, Heritage Salvage
Petaluma, California (PRWEB) January 23, 2012
Heritage Salvage, a ten year-old reclaimed building materials business announced today that they provided various recycled materials to the props company who built several sets for the new George Lucas movie, Red Tails, being released to theaters this week.
After they finished shooting the film Heritage Salvage was given the opportunity to visit Skywalker Ranch and bring several props back to their custom woodworking shop, re-crafting them for a longer life.
Often, after sets are closed for motion pictures many of the materials end up in the landfill. In this case, Lucasfilm made a sustainable move.
Heritage Salvage craftsman repurposed ordinance and supply box props to custom make a table, bench and lawn chair set which are now available for sale. Proceeds are designated to support a local community farm, Petaluma Bounty, dedicated to providing healthy food.
Utilizing salvaged wood from old buildings not only saves it from going to the landfill, it also saves precious natural resources.
Bug Deakin, President of Heritage Salvage, shared: "We are honored to have provided reclaimed wood for this important movie, and we are even more pleased to have been able to recycle the old wood a second time into additional products that will benefit Petaluma Bounty, a local community organization dedicated to helping provide healthy food to all."
Heritage Salvage
About Heritage Salvage
Heritage Salvage has a three-acre yard of reclaimed building materials, architectural salvage, and flooring, a custom wood shop and a salvage boutique with custom made furniture. A comprehensive design and build team is available on premises to meet customer needs sustainably. Heritage Salvage has supplied materials and built the furnishings for over 40 restaurants, bars, stores, barns and homes. If you can draw it on a bar napkin or show us a picture, Heritage Salvage can build it!
Heritage Salvage 1473 Petaluma Blvd, South Petaluma, CA (707) 762.6277
###