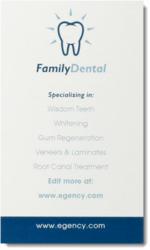 Although we're concerned with budget, we can't stop marketing ... we do shop for quality ...
Thousand Oaks, CA (PRWEB) January 22, 2012
Dentists participating in an online poll conducted by Egency.com - a provider of direct marketing materials for professionals - say the current economy is affecting their marketing strategies as well as presenting other challenges.
"I think the biggest challenge facing individual dentists today is personal debt." Sobering words from Keith Kano, DDS. Dr. Kano of Valley Hill Dental Group has been practicing for 15 years in Modesto, CA.
Slow economic conditions over the past few years have impacted Dr. Kano's colleagues as well as his own practice. "There has been a decline [of patient visits] in the last 2-3 years due to people losing their jobs, so their dental needs are low on the priority list in comparison."
That decline in patient visits has also meant a reduction of big budget marketing for some dentists. According to the poll, 70% of dentists who responded say "budget" is their main marketing concern, with another 30% admitting "not knowing where to start." A Kansas-based dental office manager wrote-in: "Although we're concerned with budget, we can't stop marketing. We use a lot of recall cards – which we find on the web – and we do shop for quality cards that are professional."
"I out-sourced a mid-sized marketing agency a few years ago, but now, I do it myself. Well, me and my office manager," offered one Camarillo, CA dentist. He spoke to Egency on the condition of remaining anonymous, but had plenty to say. "Hell, I feel lucky to even have an office manager. It's been a roller coaster ride over the past couple of years. I'm still here. Things are slow, but solid. Retention is my main focus. Keeping them coming back. Great customer service, old-fashion appointment cards I have printed out … and updating my own website."
The growing trend toward do-it-yourself marketing among dentists and other professionals is also apparent in search engine queries. A look at Google search trends shows the phrase "diy [do-it-yourself] business cards" up almost 40% in October 2011 over October 2010, a possible sign of more professionals turning to template-based online tools and printing services over costly creative agencies.
"We just use word of mouth for our marketing, most of my friends do the same," reveals Dr. Kano. "Mailers and other mass media ads attract all kinds of patients. Word of mouth generally attracts the kind of patients that we already have. Our practice is a boutique type practice. We engage and retain patients by providing exceptional service and quality."
Other dental marketing professionals agree that retention is key. Steve Israel of Your Secret Weapon - Marketing and Communications, LLC in Toledo, OH, a firm that advises dental practices, says, "My practices are in touch with their current patients, as well as potential patients, regularly, and it's really made a difference in their production. They're the first to say, 'What economic slowdown?'"
"I intend to keep doing as much myself as possible," adds the Camarillo DDS. "Creating recall cards online is not difficult. And those cards go to my returning patients to keep them returning."
Egency, based in Thousand Oaks, Calif., provides high-quality business cards and other direct marketing solutions for dentists, event planners, cosmetic surgeons, salon/spa professionals, realtors and other professions. Egency is a member of the AGFA Graphics family, an internationally renowned leader in the publishing and printing industries, with teams based in the U.S., and Belgium.
For more information, contact Egency Marketing @ (805) 277-6971.
# # #