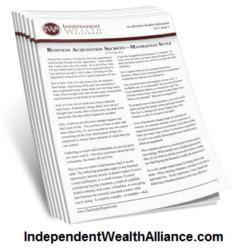 AW Research Publishing information, is responsible for publishing The Absolute Wealth newsletter, and The Empire Report, featuring George Ross a costar on The Apprentice and adviser to Donald Trump
Austin, TX (PRWEB) January 21, 2012
The creation of The Absolute Wealth Alliance was a mastermind including an experienced, proven team of financial and investment experts. AW Publishing searched the globe to recruit the most highly qualified, and experienced team of experts available that have shown proven results, to research, compile and publish the appropriate information and strategies necessary to make The Absolute Wealth Alliance a leader in the investment and financial field.
The combined experience of these experts come from areas like currencies and financial markets, stock and options trading markets, precious metals trading markets, and more. These experts have full bios listed on the AbsoluteWealth.com website, along with the other team members that are responsible for compiling and publishing all this relevant information.
More on AW Research Publishing
The team that publishes the AW Research Publishing information, is responsible for publishing The Absolute Wealth newsletter, and The Empire Report, featuring George Ross a costar on The Apprentice and adviser to Donald Trump. AW Research Publishing products include, the Independent Wealth Alliance, which is the only monthly independent anti-bias, anti-hype, anti-risk investment alliance providing expert investment advice, and is dedicated to providing information on earning exceptional returns by using the timeless secret of the "Economy of One".
All the research and information published by AW Research Publishing, is from experienced experts in the financial field, and also experts on the stock markets. The Absolute Wealth newsletter is currently the only independent investment alliance that is dedicated to aid the American people with tried and true strategies that increase their wealth. The AW Research Publishing information is about the same techniques and strategies that have been implemented by the great financial visionaries of the past, that created great amounts of wealth. The Absolute Wealth newsletter research and information is organized, then categorized into main techniques and strategies that can help people preserve and grow wealth, no matter what Wall Street experts predict for the mass economy, or what the media is talking about.
Get a free copy of The Absolute Wealth newsletter, for current financial advice, and to learn more about these powerful techniques and strategies that have been used over and over again to create financial empires. For a limited time, along with The Absolute Wealth newsletter, the $49 "The Great Fall of China" eBook is being offered as a complimentary bonus for all new subscribers.
# # #