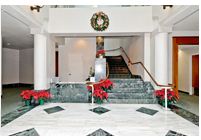 everyone who visits our office is greeted warmly and treated well
Stamford, CT (PRWEB) January 25, 2012
Meeting the ever-growing demand for convenient and affordable office space solutions, BLT Business Centers serve Fairfield County and the Tri-State region with locations in the prime business hubs of Stamford and Darien. An attractive alternative to the high overhead and start-up costs of traditional office space, their fully furnished private offices are accompanied by shared common areas including impressive lobbies, well-appointed conference rooms, kitchens, break rooms and fitness center access. The facilities are complete with back-up generators for uninterrupted power supply.
Contributing to business growth and retention, BLT Business Centers offer versatile work environments that can easily adapt to a company's expansion or restructuring process. Flexible lease terms give another strong advantage over traditional office rentals, especially for start-up or expanding firms.
"Our full-time and virtual office solutions feature a wide range of amenities and can accommodate every business model," said Andrea Scaccianoce, General Manager of BLT Business Centers. Since coming on board last May, Ms. Scaccianoce has launched the firm's new website, bltbusinesscenters.com, and skillfully leads the team with a focus on outstanding customer service, having quickly achieved a 90-percent occupancy rate. "The turn-key convenience and support service of our Business Centers help companies achieve success, allowing them to focus on their core operations. Our business is all about keeping our clients in business."
BLT Business Centers offer comprehensive amenities including mail/delivery services, copy/fax services, cleaning/maintenance services and work-ready telecommunications technology. Day offices and/or meeting rooms are also available on an hourly or daily basis. Another option, virtual office programs provide a local phone number, mailing address and conference room usage, and can be especially attractive to those in the initial phase of establishing their business presence.
Conveniently located minutes from I-95 and the Merritt Parkway, BLT Business Centers have ample parking plus shuttle service to Stamford's Amtrak/Metro-North train station. Only 40 minutes by train to Manhattan, the Stamford location is right on the harbor, a setting combining convenience and beautiful waterfront scenery. Downtown Stamford and Old Greenwich are adjacent, putting the area's best shops, restaurants, services, marinas and beaches close at hand.
"We welcome the opportunity to meet with new clients to develop office solutions for their specific needs," said Ms. Scaccianoce. As proof of the outstanding services and facilities they provide, BLT Business Centers have earned testimonials from many satisfied clients. One reports, "PQ Media has been at Stamford Landing for almost 10 years. With the help of BLT's support services, we've been able to focus our attention on growing our business instead of on the operations of running an office. We're thrilled with all the improvements BLT has made since purchasing the property and look forward to another successful 10 years here at Stamford Landing."
Said another long-term client, "My company has leased space here for many years. I appreciate how attentive management is to client needs and how they are always looking to improve the space and the services they provide. The staff at BLT is professional but also very personable – I know that everyone who visits our office is greeted warmly and treated well." Another client reports, "We have been delighted with everything about BLT Business Centers – the facilities, services and management. In particular, we have appreciated the highly professional service and personal attention you have given us throughout our stay." Yet another client describes the experience with BLT Business Centers, "Your company provided the perfect solution for us as we worked to get our new office off the ground. Your helpful staff was always professional, pleasant and prepared with valuable suggestions for us."
BLT Business Centers are developed and managed by Building and Land Technology, the second-generation real estate developer of Harbor Point, the vibrant 80-acre mixed-use community transforming Stamford's historic South End waterfront, directly across the harbor channel from the BLT Business Center at Stamford Landing. For more information about BLT Business Centers in Stamford and Darien, visit bltbusinesscenters.com.
About BLT
A second-generation real estate development company, Connecticut-based Building and Land Technology has completed ventures worth more than $3 billion including over 4 million square feet of commercial development and 4,500+ residential units. BLT trophy properties host the headquarters for Starwood Hotels & Resorts Worldwide, Gen Re, GE Commercial Finance, Diageo, GE Real Estate, Xerox, GE Energy Financial Services, Hewitt, Cornell University Veterinary Specialists, Design Within Reach and Louis Dreyfus Highbridge Energy. Their numerous office parks, apartment complexes, single family subdivisions, common interest communities and adaptive reuse projects total in excess of 8,000,000 square feet of development throughout Fairfield County. For more information, visit the website at http://www.BLToffice.com.
# # #