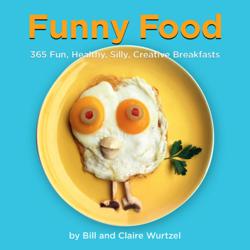 "EGGS, OVER EASY, SCRAMBLED OR SMILING? Who doesn't like to play with food? Bill Wurtzel, a jazz guitarist, is turning a hobby into a new art form that also delivers a social message.
– Sam Roberts, The New York Times
New York, NY (PRWEB) January 23, 2012
Armed with his delightful new book Funny Food, Bill Wurtzel is gleefully determined to get children laughing, learning, and eating right–one breakfast at a time. Never has been getting even the most finicky kids to eat a good breakfast, satisfying snack, or even healthy desert been so fun, wholesome, and educational.
Riffing on eggs, waffles, pancakes, oatmeal, cereal, fruit and nuts, Bill's is a wacky world where nutritious and delicious fit together like two peas in a pod. In his hands carrots turn into airplanes, boiled eggs into jugglers, and pears into guitar players but, as Sam Roberts says in The New York Times, "these are not your mother's smiley-face sandwiches."
While Picasso, Matisse, Shakespeare, and even Sigmund Freud make cameo appearances on the plates of Funny Food, it's Bill's wife Claire (a vision in kiwi, egg, and strawberries on page 42) who inspired the book. Since the early days of their 50-year marriage, Bill has made breakfast a happily anticipated event, preparing over 400 of his wildly artistic, healthy plates for his committed Weight Watcher wife.
Together, the Wurtzels are turning a fun hobby into an art form with a social message, taking their Funny Food Workshops to kids and teachers in New York City public schools, "teaching them to use their imaginations to improve their health, rather than just putting lettuce and vegetables on their trays," Bill explained to The New York Times. "Your breakfasts don't have to look like they'll hang in the Louvre," Mr. Wurtzel said. "It's the gesture that counts."
Funny Food contains recipes, how-to photographs, step-by-steps, and easy to teach and remember tips for a lifetime of healthy, happy eating.

Click here to see photos of 4 year old Daniela having fun making and eating a healthy fruit snack.
The Funny Food Workshop Guide will be available to teachers for free download upon the release of the book.
Read Claire's blog on Lifetime Mom's here.
###