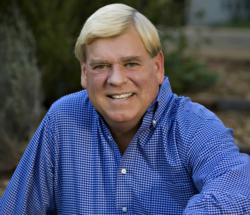 Being here at V. Sattui Winery is like coming home again.
St. Helena, Napa Valley, CA (PRWEB) January 22, 2012
Tom Davies, President of V. Sattui Winery, announced the hiring of Tom O'Higgins as Marketplace Manager: "We are thrilled to have an executive of Tom's extensive business background and wine and food experience join V. Sattui. Tom's knowledge and energy will allow us to improve upon the guest experience at the winery, especially in our Deli and Marketplace."
O'Higgins, a Northern California native, attended college in Berkeley, Los Angeles and France, attaining a degree in wine business marketing and a MFA in film and television. While studying in France, he interned at Chateau Bellegrave in Pauillac at the auspices of Henry Vandervoort, and in Epernay, at Pierre-Jouet Champagne during its stewardship by Pierre Ernst.
Returning from Europe, he ventured into another business related to his love of cooking and pairing food with wine: a part-time job in Beverly Hills on Rodeo Drive with Williams-Sonoma. During his 15 years with William-Sonoma, he worked alongside Chuck Williams to develop the company's first catalog, and as a Vice President, he helped build the company from 4 to over 200 stores nationwide.
Higgins also worked and consulted with several wineries in the Napa Valley, the Central Coast and Santa Barbara County over the last 8 years. Tom and his wife Susan just relocated back to the Napa Valley and he says: "...being here at V. Sattui Winery is like coming home again."
About V. Sattui Winery:
V. Sattui Winery is a fourth-generation family-owned winery. V. Sattui makes 45 different wines. Recent recognition of the winery's commitment to excellence is its selection as "Winery of the Year" at the 2012 Winemaker's Challenge and "Best of the Bay" winner in the 2011 San Francisco Bay Guardian.
Founded in 1885 by Vittorio Sattui, today V. Sattui Winery is the only winery in Napa Valley with its own extensive deli offering house-made prepared foods from salads to charcuterie to pastas, pizza, and bbq'd fare and over 200 cheeses from around the world. Visitors can assemble a picnic and enjoy it outdoors under the centuries-old oak trees on the winery grounds.
V. Sattui Winery is located 1.5 miles south of St. Helena at 1111 White Lane; the winery is open seven days a week from 9:00 a.m. to 5:00 p.m.; no reservations required. 707-963-7774
###