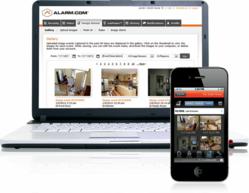 Vienna, VA (PRWEB) January 23, 2012
Alarm.com today announced the availability of the Alarm.com Image Sensor and Image Sensing Services with the Interlogix Simon XT control panels. The Image Sensor is a small, completely wireless device with a built-in still camera which enables consumers to quickly and easily view activity "snapshots" from their property via their smart phone or other device, while also providing traditional motion sensing capabilities required of a security system.
"With the launch of this new technology, we are continuing to offer our Dealer Partners the industry's most innovative advances in highly sticky interactive services and comprehensive security," said Steve Trundle, CEO of Alarm.com. "The Alarm.com Image Sensor provides a completely new experience for customers through the integration of motion and image capture with Interactive Services. This elegant solution is 100% wireless and lets the user see what is happening without introducing the complexity, costs, or vulnerabilities associated with a broadband dependency. We believe that it provides our Dealer Partners with the opportunity to continue to stand out in the market with another unique, high value and differentiated service."
The Image Sensor delivers images that show what's happening at a property, day or night due to its infrared LED flash. End users can track both alarm events and non alarm activity, as well as receive real-time email or text alerts of pictures captured. The Image Sensor's interactive controls are all available via Alarm.com's user-friendly website and mobile apps.
In 2011, Alarm.com executed a broad pilot of the technology with Pinnacle Security and the Simon XT control panel. With installation volumes dramatically exceeding the pilot test goals, the program showed clear consumer demand. Users appreciated receiving a relevant picture each day from their home or business on their mobile internet device, and the technology also proved itself capable of helping authorities identify a perpetrator when a break-in occurred.
"Pinnacle is extremely excited about the overall response to the Image Sensor, the impact to our business and the eager adoption of our customers," said Stuart Dean, VP of Corporate Communications, Pinnacle Security. "As a company, we are committed to offering end users products and services delivering the latest technology that keep them connected and aware of what's going on at their home or business. The Image Sensor gives our customers a simple, first of its kind solution that increases the value of their system and can deliver visual peace of mind on-demand. With technology advancing every day and the development of new requirements for emergency response, the launch of this device is truly pivotal."
The Image Sensor is immediately available with the Simon XT panel and will be available with the Interlogix Concord and the 2Gig Go!Control panel later this year. For more information on the Image Sensor and Alarm.com's other industry-leading products, services and technology, visit http://www.alarm.com.
About Alarm.com
Alarm.com, founded in 2000, is the industry leading technology provider of interactive security solutions. Through advanced wireless monitoring, mobile and web-based services, and a proven hosted services platform, Alarm.com helps protect hundreds of thousands of residential and commercial customers throughout the United States and Canada. Alarm.com's products and services are offered exclusively through a network of over 2,500 licensed and authorized Security Dealers. Alarm.com's headquarters is located in Vienna, VA. For more information, visit http://www.alarm.com.
###