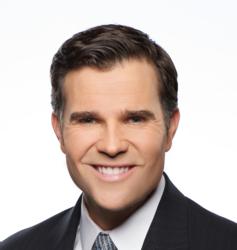 Happiness isn't something that's going to happen to you. Happiness is something you're going to have to earn. - Justin Farmer
Rome, Georgia (PRWEB) January 20, 2012
Today, Atlanta news anchor Justin Farmer ('87) urged Darlington School students in grades 9-12 to make the most of their opportunities and resist the path of least resistance.
The anchor of WSB-TV's Channel 2 Action News at 5, Channel 2 Action News at 6 and the Channel 2 Action News Nightbeat, returned to his alma mater to serve as the keynote speaker for Career Day.
"Happiness isn't something that's going to happen to you," he said. "Happiness is something you're going to have to earn. There is so much joy in the sense of accomplishment ... Make the most of your opportunities and life can be flat out fun."
Farmer's recent assignments have included a one-on-one interview with President Barack Obama at the White House, where he examined the president's policies on government spending and illegal immigration.
"This republic requires an indepedent press," he said. "Fundamentally, you need responsible journalists as a check and balance of what our leaders are doing and not doing."
From Cuba to Brazil to Washington, D.C., Famer has been recognized for covering national and international stories that affect Atlanta and Georgia. Twice in 2010, he traveled to the Arizona-Mexico border for groundbreaking reports revealing that Middle Eastern terrorists have crossed into the U.S. from Mexico. As the political season nears, he will moderate political debates and cover issues like Georgia's transportation and employment landscapes.
Farmer, who holds a political science degree from Boston College, said his interest in politics is rooted in his days at Darlington as a student in Jack Summerbell's American history class. "If you want to do this or anything like it, know your basic American history," he said. "You will be amazed at how much you use it during life in general."
Prior to his return to his hometown of Atlanta and WSB-TV, Farmer worked at the ABC affiliate in Dallas and the Fox station in Denver. His other stops included the NBC station in West Palm Beach, Fla., and CNN-Sports Illustrated in Atlanta. His first job was in Albany, Ga., a job he got after interning at WSB-TV. Click here to watch a video story about Farmer.
Career Day sessions focused on various professions from entertainment to psychology will be led by 24 other alumni including Tara (Williams) Ashbaugh ('91), Carrington Astin ('06), Michael Byrd ('03), Martha (Wilkinson) Compton ('83), Helen Davis ('02), Ryan Fox ('01), Bryan Freeman ('77), Sara Harbin ('95), Angelyn (Waddell) Hill ('99), Jim Hudson ('81), John Scott Husser ('99), Ryan Jones ('97), Howie Lowden ('94), Kim McConkey ('73), Elyse Moody ('03), Kelly Moore ('95), Lauren Muller ('02), Julia (Barton) Pollard ('86), Sarah Rhodes ('02), Matt Sawhill ('96), J.T. Watters ('97), Charlie Williams ('82), Georgia (Harris) Wooller ('02) and Col. Faylene Wright ('71T). Kathleen (Smith) Hughes ('84) will also present a special program to freshmen and sophomores.
"We are so appreciative of all of our alumni who returned to Darlington today to give our students a firsthand glimpse into their respective careers," said Vicki Vincent, director of alumni relations.
Career Day is sponsored biannually by Darlington School's Alumni Council.
###